F/CE. DRY LINE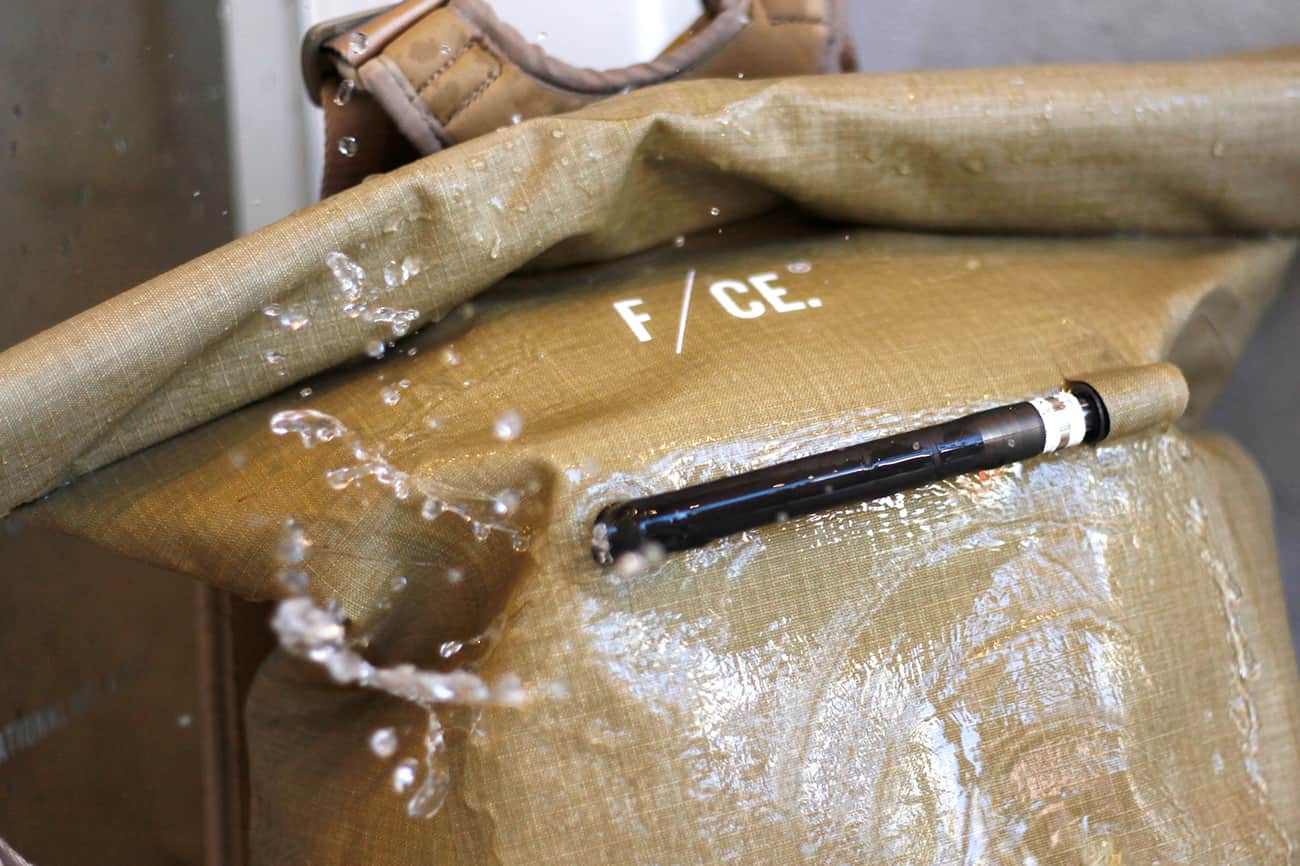 DRY LINE1
無縫製・完全防水のライン。
特殊機械に重ねて入れた2枚の生地(パーツ)に圧力をかけ、電磁波を流すことにより、耐久性のある縫い目のない接合部に仕上がります。特殊熔着処理によって2つの生地が分子レベルで化学反応を起こす結果、再分離、剥離が起こることはありません。メインの素材にはCORDURA 500デニールのリップストップファブリックを使用し、防水かつ安心の強度を併せ持つことが可能に。また、DRYラインでは一部のモデルにはジップロックパーツなど、特殊パーツを使用しバッグから小物まで、様々な状況下でも安心して使用することが可能です。ハイスペックなアクティブギアからのインスピレーションで全てデザインされている。
This line is seamless and completely water-proof. 
These products are created with durable seamless joints by applying pressure to two pieces of fabric (parts) stacked in a special machine that sends electromagnetic waves through the fabric. This special welding process causes a chemical reaction at the molecular level, which ensures that the two pieces of fabric never separate or peel. 
We use CODURA 500-denier Ripstop fabric as the main material, and this enables us to combine water-resistance and reliable strength. In addition, some models in our DRY line, from bags to small articles, are made using special parts, such as Ziploc, etc., so you are able to use the products without worry in a variety of situations. All the products have been design with inspiration from high-spec active gear. 
F/CE.®/SEAMLESS ZIPLOCK/23,000+TAX
F/CE.®/FLAMEWORK ZIPLOCK/23,000+TAX
F/CE. FLAMEWORK TRAVEL CASE/9,500+TAX
F/CE.® FLAMEWORK POCHET/14,000+TAX
F/CE.®/SEAMLESS DAY PACK/25,000+TAX
F/CE.®/SEAMLESS ROLL TOP/23,000+TAX
F/CE. FLAMEWORK TRAVEL CASE/9,500+TAX
F/CE.® FLAMEWORK POCHET/14,000+TAX
▶DRY LINE1はコチラ
▶DRY LINE2はコチラ