2022 SPPRING/SUMMER CLOTHING LINE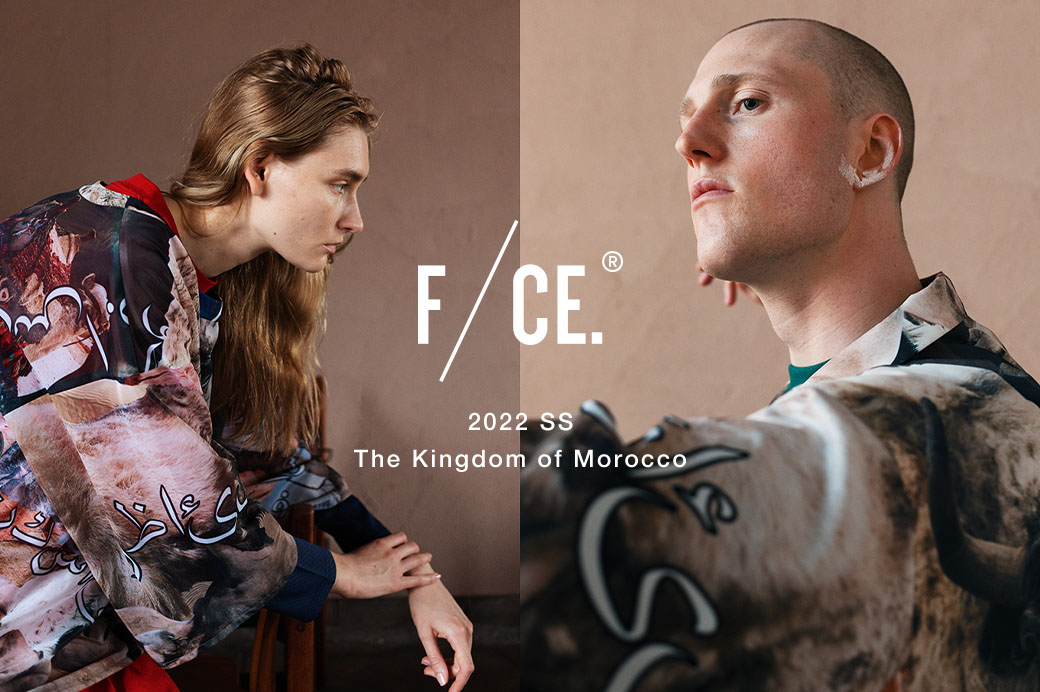 F/CE.®のコレクションテーマは
世界中から選ばれたひとつの国。
テーマとなった国を実際に訪れて、
生活、歴史、建築、アート、音楽などに触れることで、
現地で感じたインスピレーションを
デザインとディテールに落とし込んでいます。
私たちがもうひとつ大事にしているもの。
それはスペックと機能性、道具としての完成度の高さです。
都市生活を心地よく過ごすための機能に、
旅から得たイメージを落とし込むことではじめて、
F/CE.®のプロダクトは完成します。 
F/CE. 2022 S/S / COLLECTION BRIEF
Ephemerality "ephemeral nature of life"
今シーズンのテーマ国は、1stシーズンに原点回帰し決定したモロッコ。
Ephemeralityをテーマに、サハラ砂漠の絶え間なく変化するパターンやテクスチャー、Joujouka音楽のリズムとエネルギー、ベルベル人の遊牧民としての習慣などをデザインインスピレーションに、これから変わりゆく世界の変化をコレクションの全体感として表現しました。
INSPIRATION
2022春夏は、12年前の初コレクションでインスピレーションを得たモロッコを、世界的なパンデミックの状況下の中で実際訪れることができなかったため、記憶と記録を辿り再訪しました。
これまでに得た経験と知識をもとに、文化をより深く掘り下げ、この国を形成したベルベル人、アフリカ人、アラビア人、ヨーロッパ人の影響の融合を探りました。
モロッコの国土の50%以上は砂漠であり、自然の形、曲線、色、素材がこのコレクションのインスピレーションの源となっています。
砂漠の環境では、太陽の光を遮るものがほとんどないため、有機的なパターンや形から小さな影ができ、それが砂の上に自然な色の層を作っています。
砂漠には遊牧民が住んでおり、彼らはそこで生活様式と豊かな歴史を築いてきました。私たちは、ベルベル人の伝統的かつ現代的なドレスや、ロイヤルブルーの民族衣装からインスピレーションを得ました。
The theme of the F/CE.® collection is
A country chosen from all over the world.
You can actually visit the country of the theme
to experience life, history, architecture, art, music, etc.
Inspiration is incorporated into the design and details.
Our designs and details are inspired by these experiences.
Another thing we value is specification and functionality.
Another thing we value is specification and functionality, the perfection of a tool.
We combine the functions that make city life comfortable
and the image we have gained from our travels.
F/CE.® products are complete. 
F/CE. 2022 S/S / COLLECTION BRIEF
Ephemerality "ephemeral nature of life"
This season's theme country is Morocco, a country that we decided to return to in the first season.
With the theme of ephemerality, the collection uses the ever-changing patterns and textures of the Sahara desert, the rhythm and energy of Joujouka music and the nomadic customs of the Berber people as design inspiration. The collection is a holistic experience of a changing world.
INSPIRATION
For Spring/Summer 2022, we revisited Morocco, the country that inspired our first collection 12 years ago, but which we were unable to visit in person during the global pandemic.
Using the experience and knowledge we had gained, we delved deeper into the culture and explored the fusion of Berber, African, Arabic and European influences that shaped the country.
More than 50% of Morocco's land mass is desert, and natural shapes, curves, colours and materials are the source of inspiration for this collection.
In a desert environment, there is little to block the sun's rays, creating small shadows from the organic patterns and shapes, which in turn create a natural layer of colour on the sand.
The desert is inhabited by nomadic peoples, who have developed a way of life and a rich history there. We took our inspiration from the traditional and contemporary dress of the Berbers and their royal blue national dress.