F/CE. × Wrangler Collaboration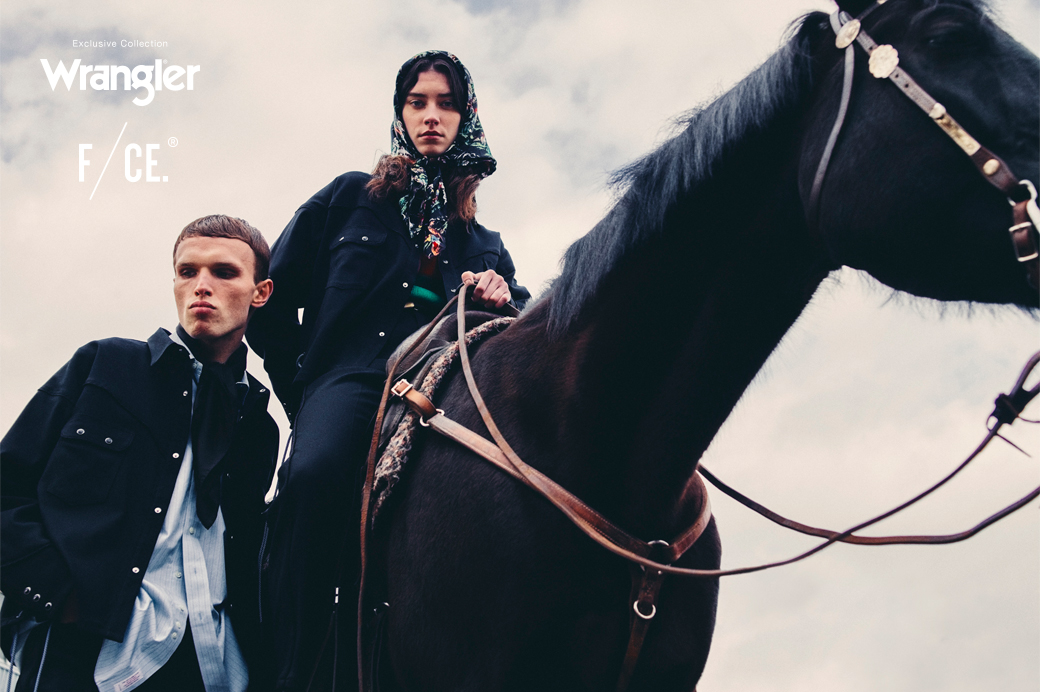 元々ロデオライダーやカウボーイのドレスアップアイテムを制作していたWrangler社のアイテム群にF/CE.の根底にある機能性を融合したカプセルコレクション。
カウボーイのドレスアップアイテムから、機能素材SOLOTEXを使用したレースアップジャケットと、1960年代にカウボーイのドレスアップ用ジーンズとして誕生した名作WRANCHERのF/CE.バージョンが登場します。
ロデオ・カウボーイドレスジーンズを象徴する、同社を代表する素材"ブロークンデニム"を使用したアイテムからは、ブーツカットデニムと、ウェスタンシャツ。
F/CE.ならではのモダンと機能性の融合、Wranglerに敬意を示し、新しい解釈で再構築しました。
This capsule collection combines the functionality of F/CE. with Wrangler's original range of dressy items designed for rodeo riders and cowboys.
The collection features a SOLOTEX lace-up jacket and F/CE.'s unique take on the classic WRANCHER dress jeans, which were first produced in the 1960s.
F/CE. reinterpret Wrangler's signature bootcut denim and western shirt – combining broken denim, a mainstay of dress jeans, with modernity and functionality.
– About Wrangler-
ノースカロライナ州グリーンズボロにて1904年にC.Cハドソンによってハドソン・オーバーオール社から始まりました。1945年にハリウッド西部劇の衣装デザイナーであるBenjamin Lichtensteinを起用し、世界初のデザイナーズデニムを製作。当時は作業着でしかなかったデニムにファッション性をもたらし、カウボーイやロデオライダーから絶大なる支持を受けました。現在はアメリカの大デニムブランドとして名を馳せています。
– About Wrangler –
Wrangler was founded in Greensboro, North Carolina in 1904 by C.C. Hudson of the Hudson Overalls Company.
In 1945, Benjamin Lichtenstein, a designer of costumes for Hollywood westerns, was hired to create the world's first designer jeans, which brought fashion to denim, which at the time was only used for work wear, and was hugely popular with cowboys and rodeo riders. Today it is one of the three leading denim brands in the USA.