F/CE. 22SS WATER REPELLENT AND WATERPROOF SPECIAL FEATURES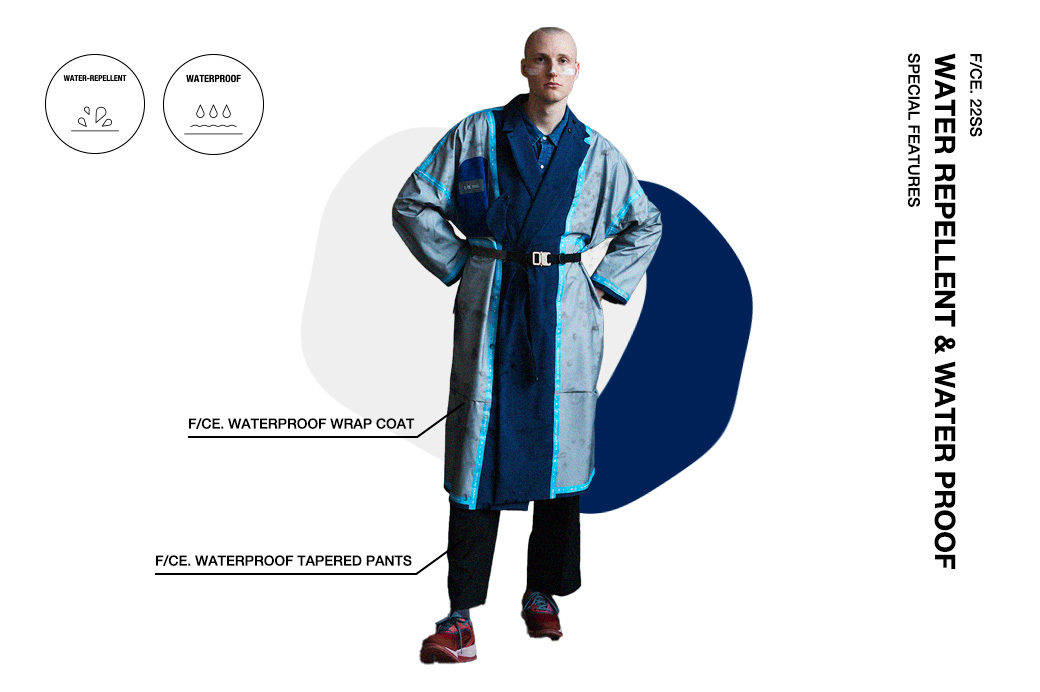 Recommended items for camping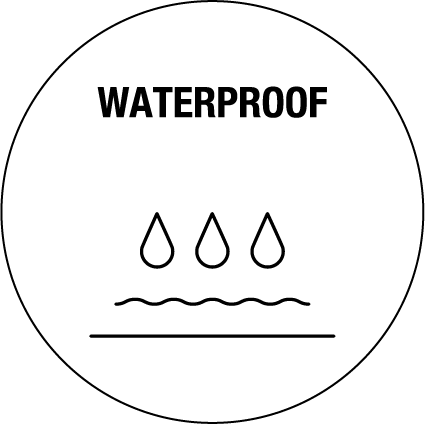 ■FABRIC / 3LAYER WATERPROOF FABRIC
高強度のNYLONを使用し、防風、耐水性に優れ、ストレッチ性能を兼ね備えた高耐水圧素材。
1枚に見えながら、実は3層構造の生地。
透湿防水性もあるため、ウェア内部にこもった湿気も外に逃がしてくれる。
・透湿 15000 g/㎡/24hr
・耐水圧 10000 ㎜
High-strength NYLON, a highly windproof, water-resistant material with excellent stretch performance.
Although it appears to be a single piece, it is actually a three-layer fabric.
It is also breathable and waterproof, allowing moisture trapped inside the garment to escape.
・Breathability 15000 g/m2/24hr
・Water pressure resistance 10000 ㎜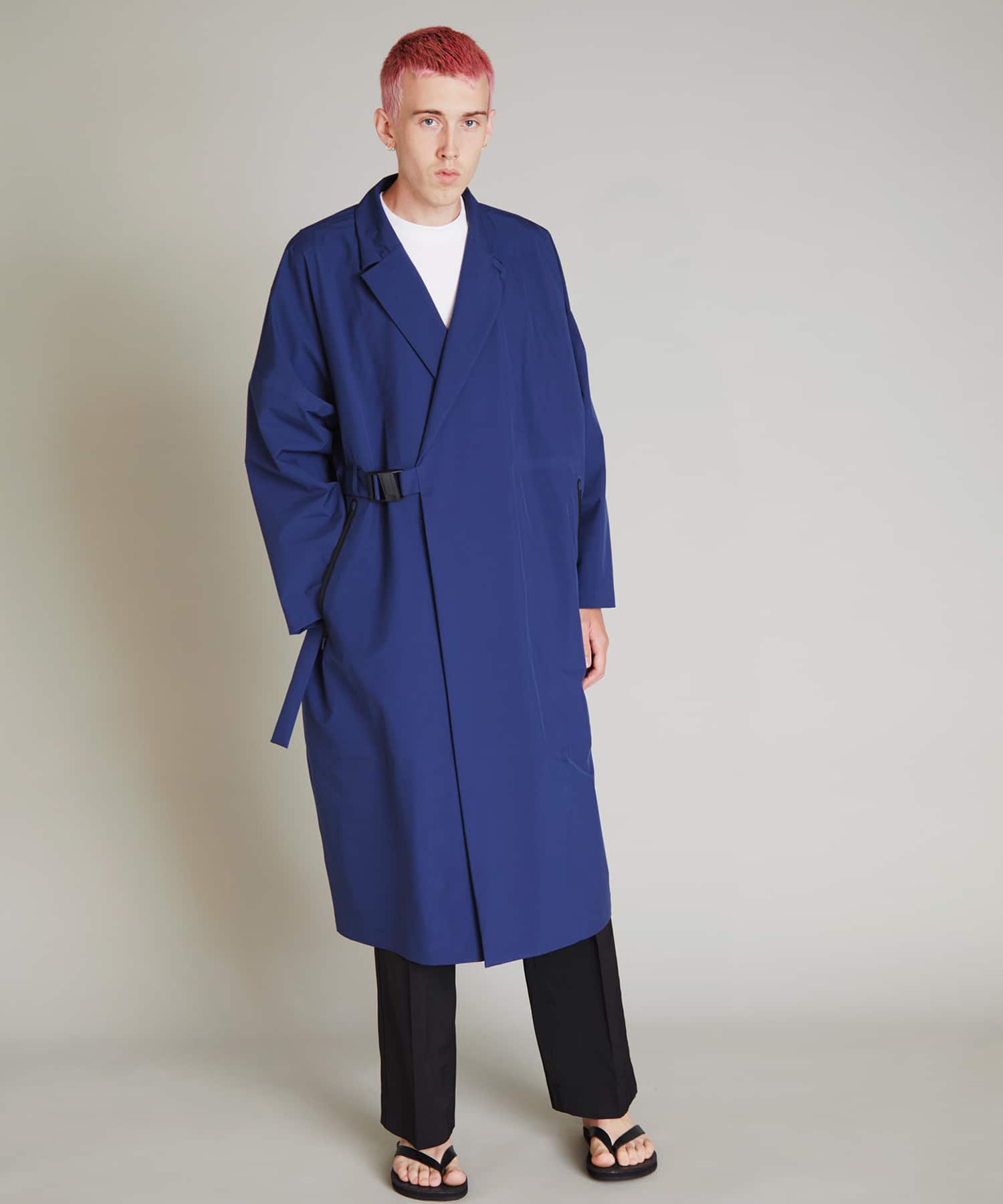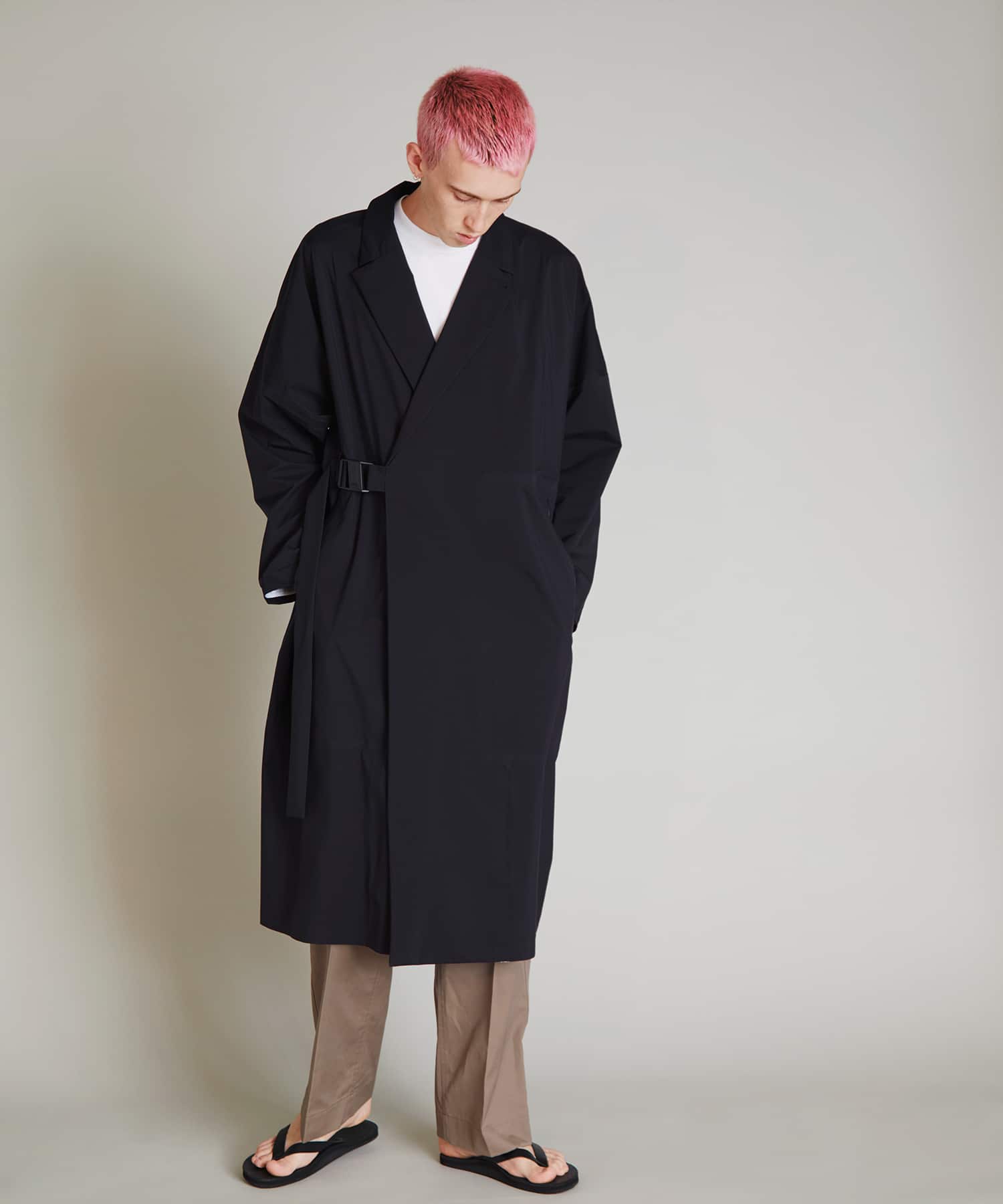 F/CE. WATERPROOF WRAP COAT / 59,400 yen(+TAX)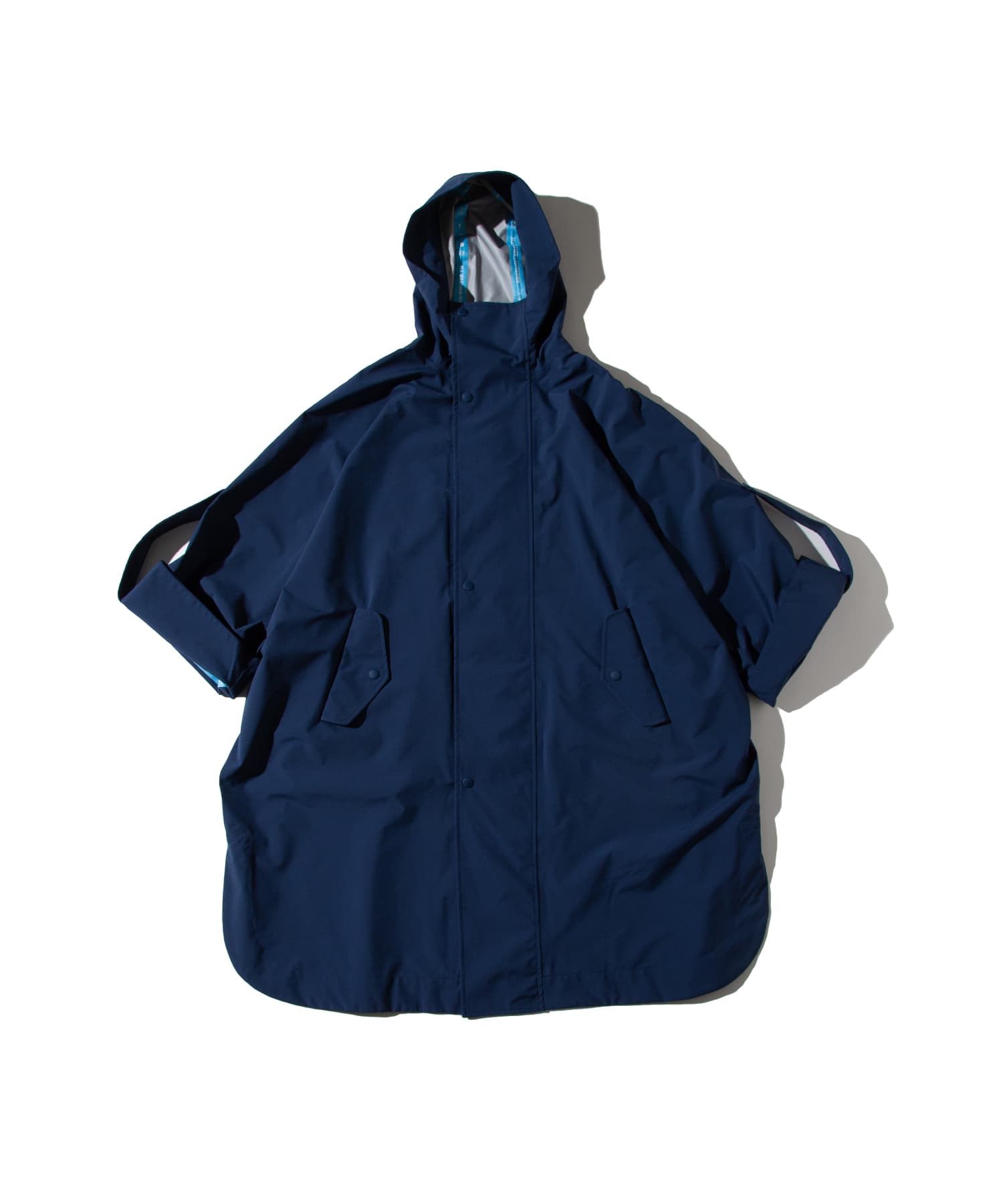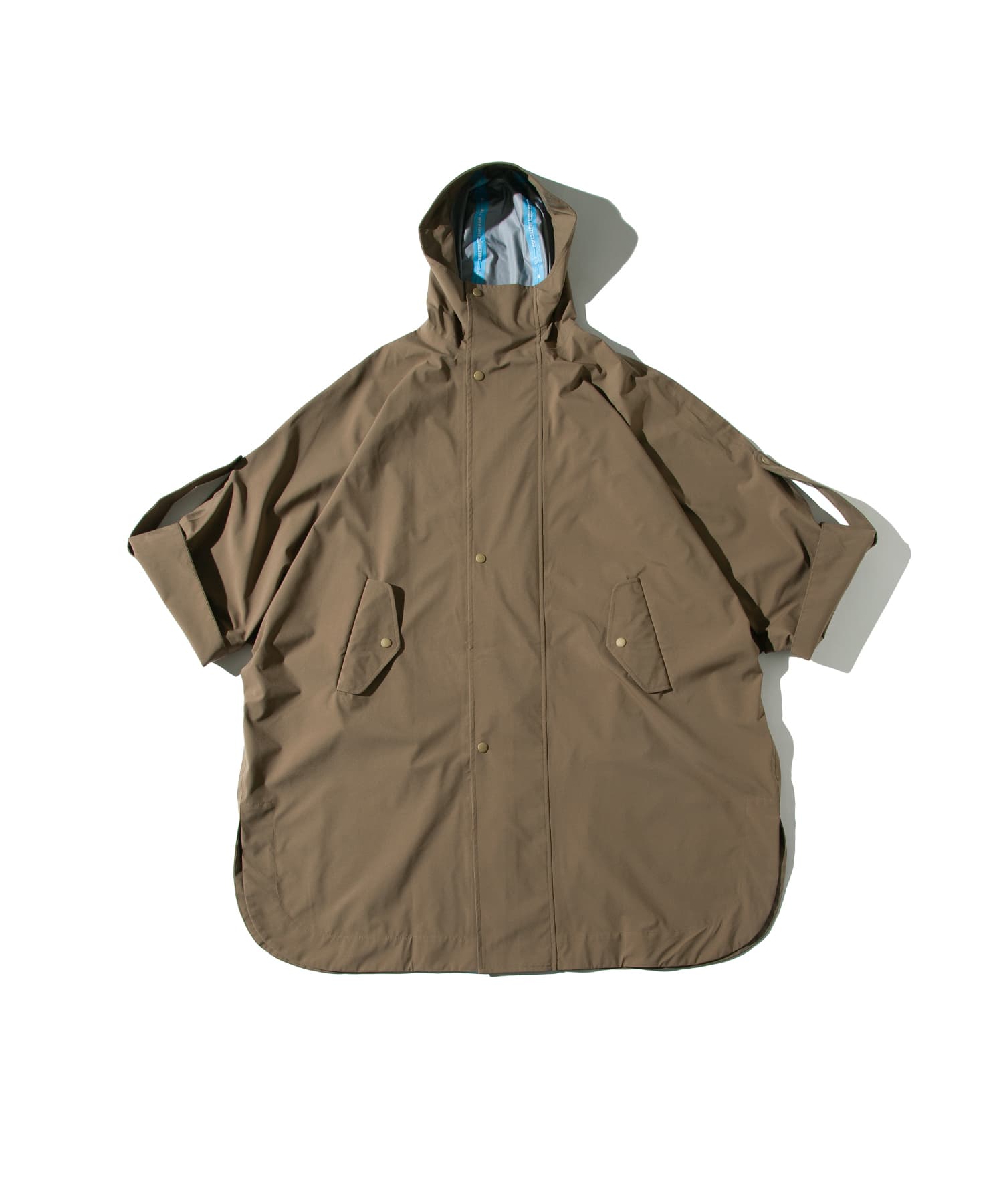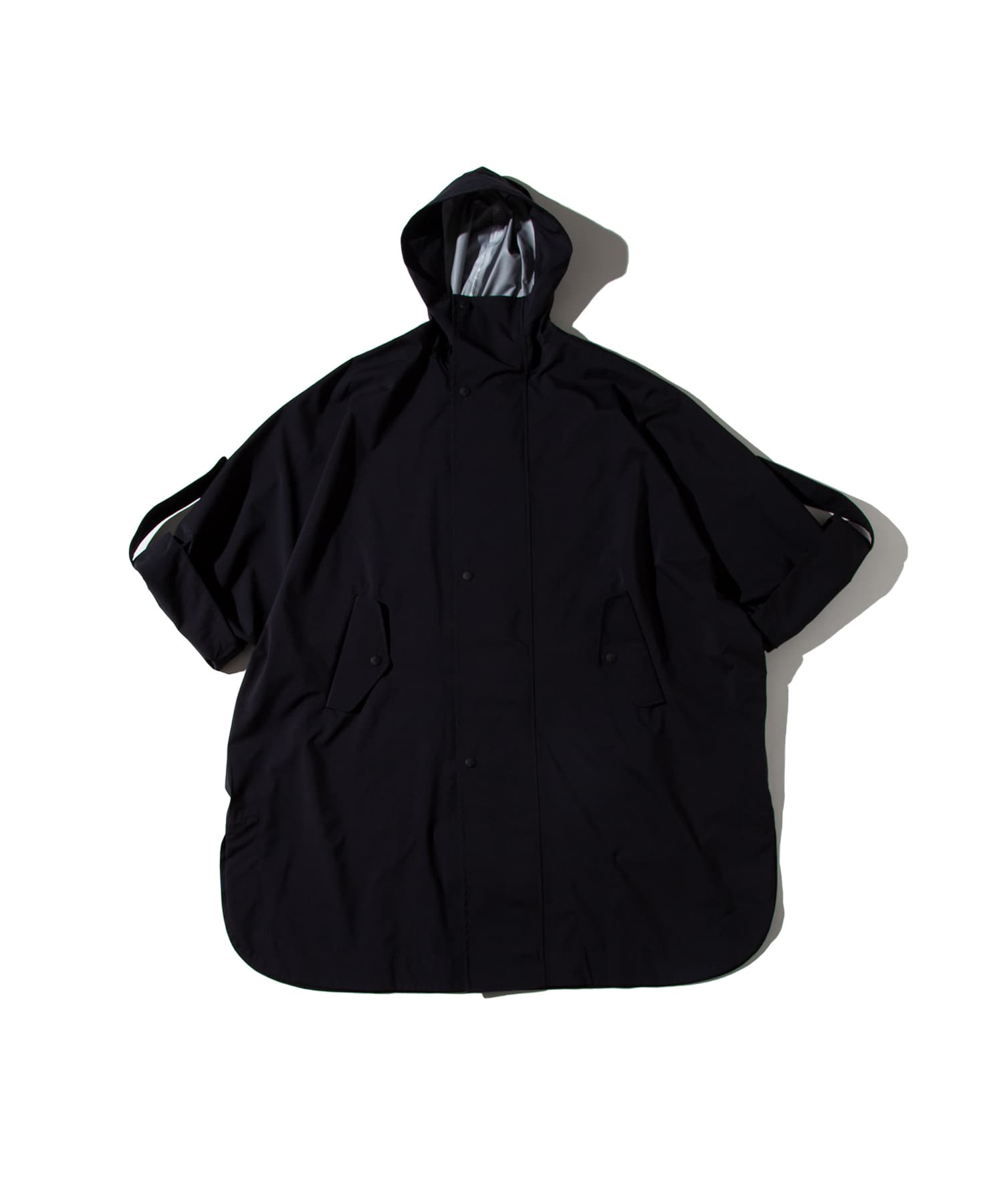 F/CE. WATERPROOF PONCHO COAT / 60,500 yen(+TAX)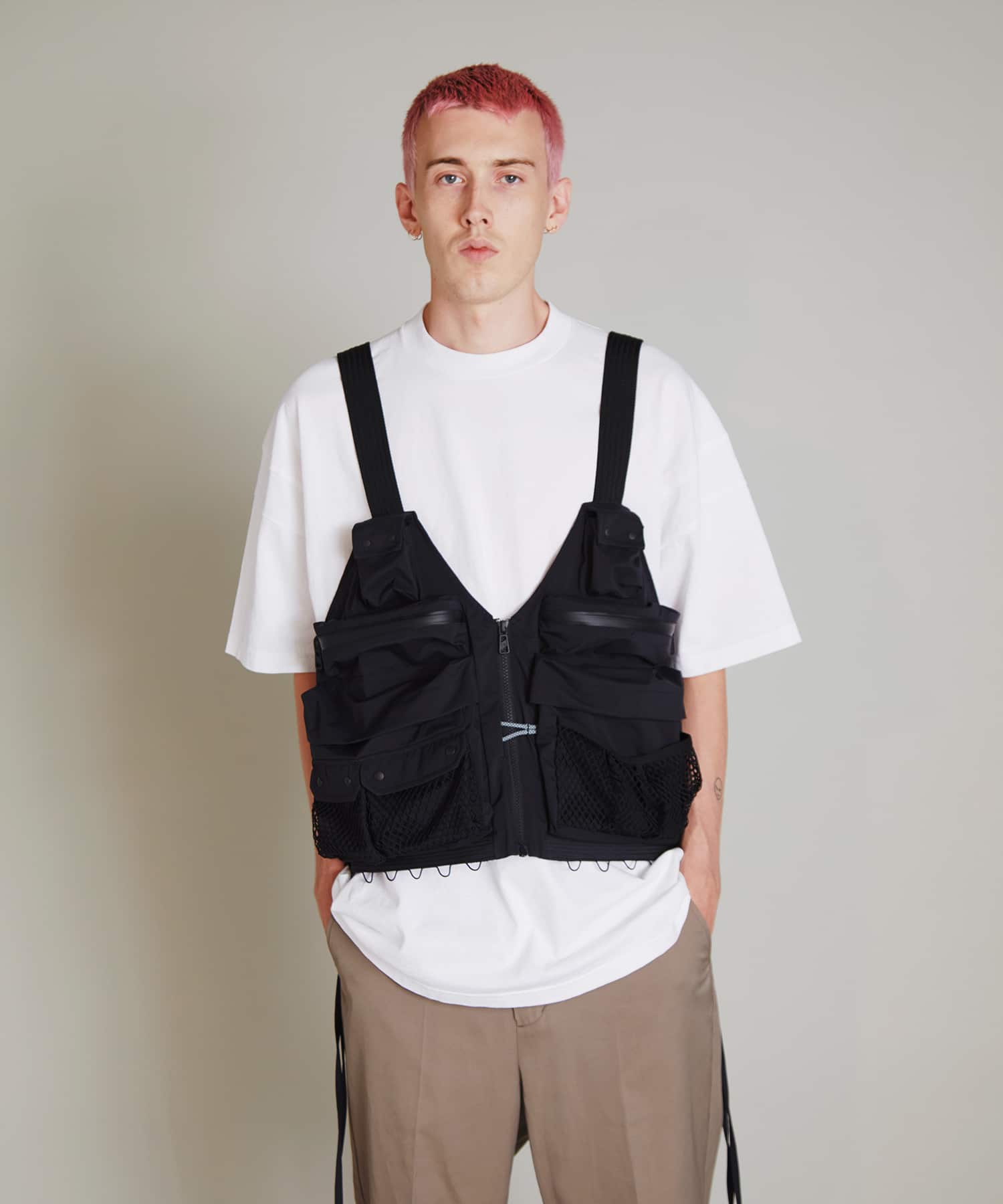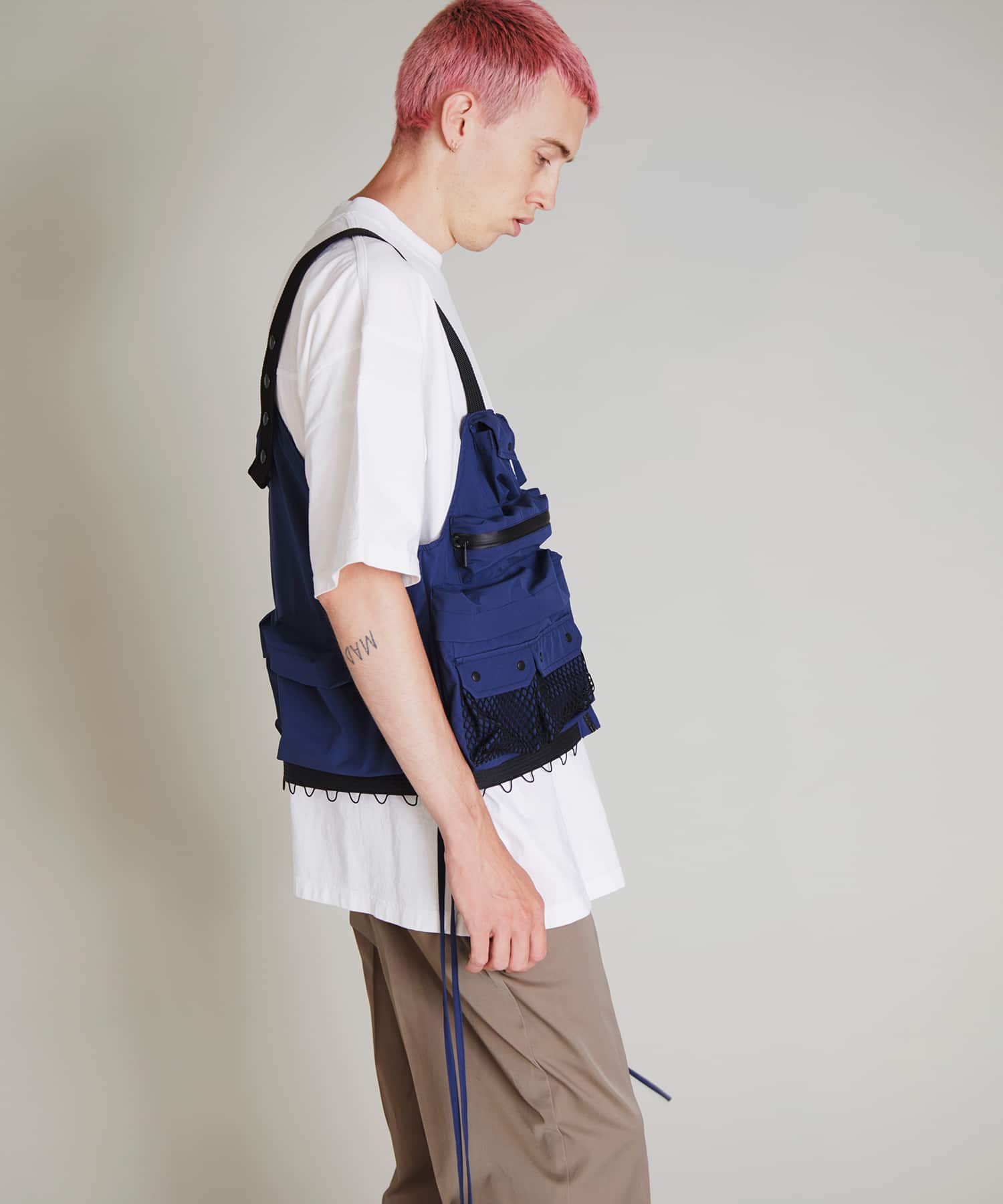 F/CE. WATERPROOF UTILITY VEST / 33,000 yen(+TAX)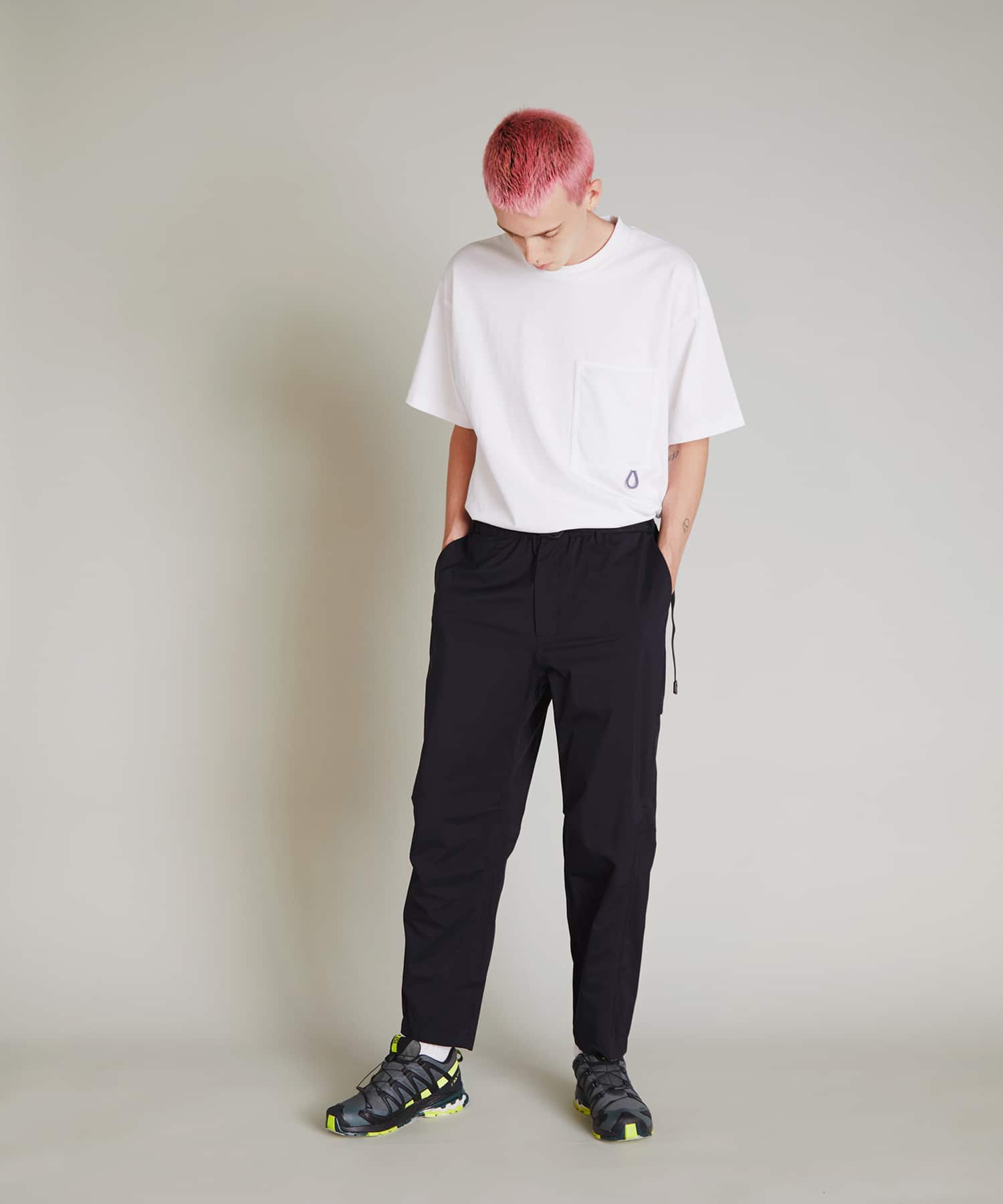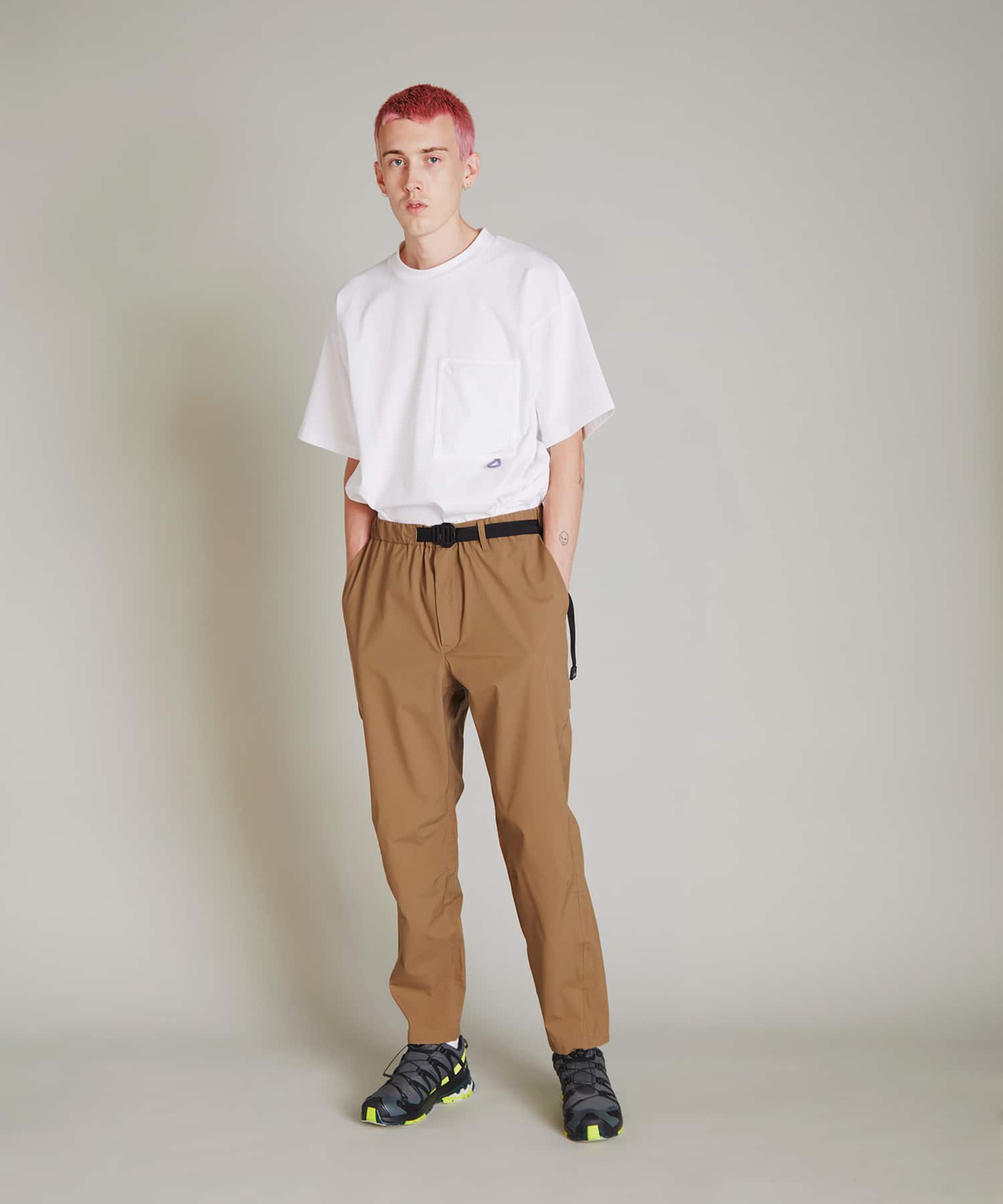 F/CE. WATERPROOF TAPERED PANTS / 35,200 yen(+TAX)
■FABRIC / 500D CORDURA
CORDURA 500デニールのリップストップファブリックを使用し、高い防水性と安心の強度を併せ持つ高機能ナイロン素材。
DRYラインの一部のモデルにはジップロックパーツなど、特殊パーツを使用しバッグから小物まで、様々な状況下でも安心して使用することが可能。

Made from CORDURA 500 denier ripstop fabric, a high-performance nylon material that is both highly waterproof and reassuringly strong.
Some models in the DRY line use special parts, such as zip-lock parts, to ensure that everything from bags to accessories can be used safely under a variety of conditions.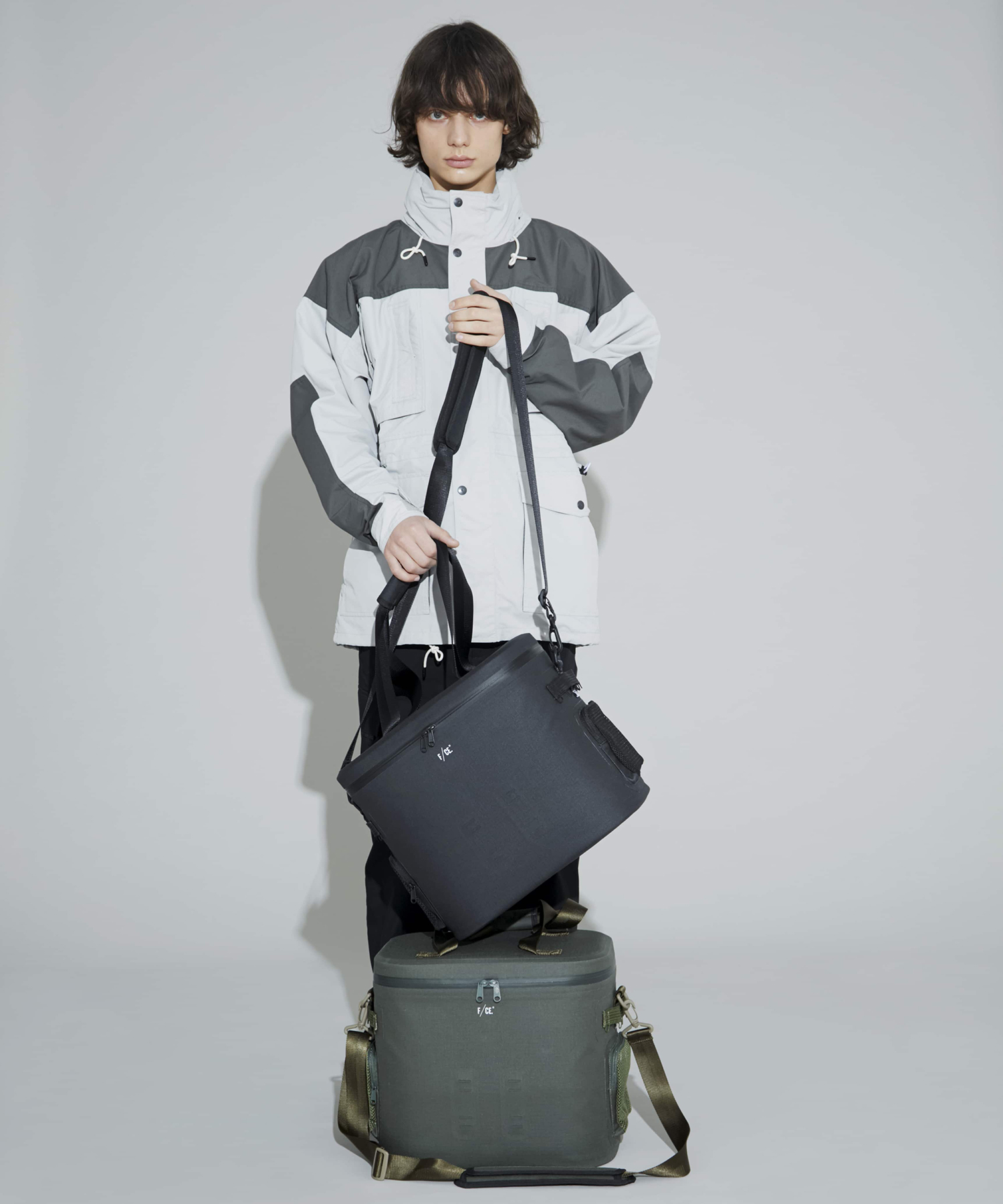 F/CE. CORDURA COOLER CONTAINER / 28,600 yen(+TAX)
Recommended items for town use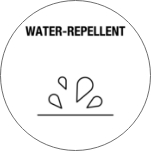 ■FABRIC /LAMINATE PANAMA CLOTH
草や、藁の様な自然な質感を織物に表現することができるナイロンへんぺい糸を使用。
ムラ染めやかすり染めといわれる染色方法で濃淡を出すことでパナマにより近づけた素材に。
PVCコーティングを施し撥水機能をもたらせた、F/CE.らしい機能素材。
Nylon Henpei yarn is used, which can express the natural texture of grass and straw in woven fabrics.
The material is dyed using a dyeing method known as mura-dyeing or kasuri-dyeing, which produces shades of grey, making it more like Panama.
A PVC coating is applied to give it a water-repellent function, a functional material that is typical of F/CE.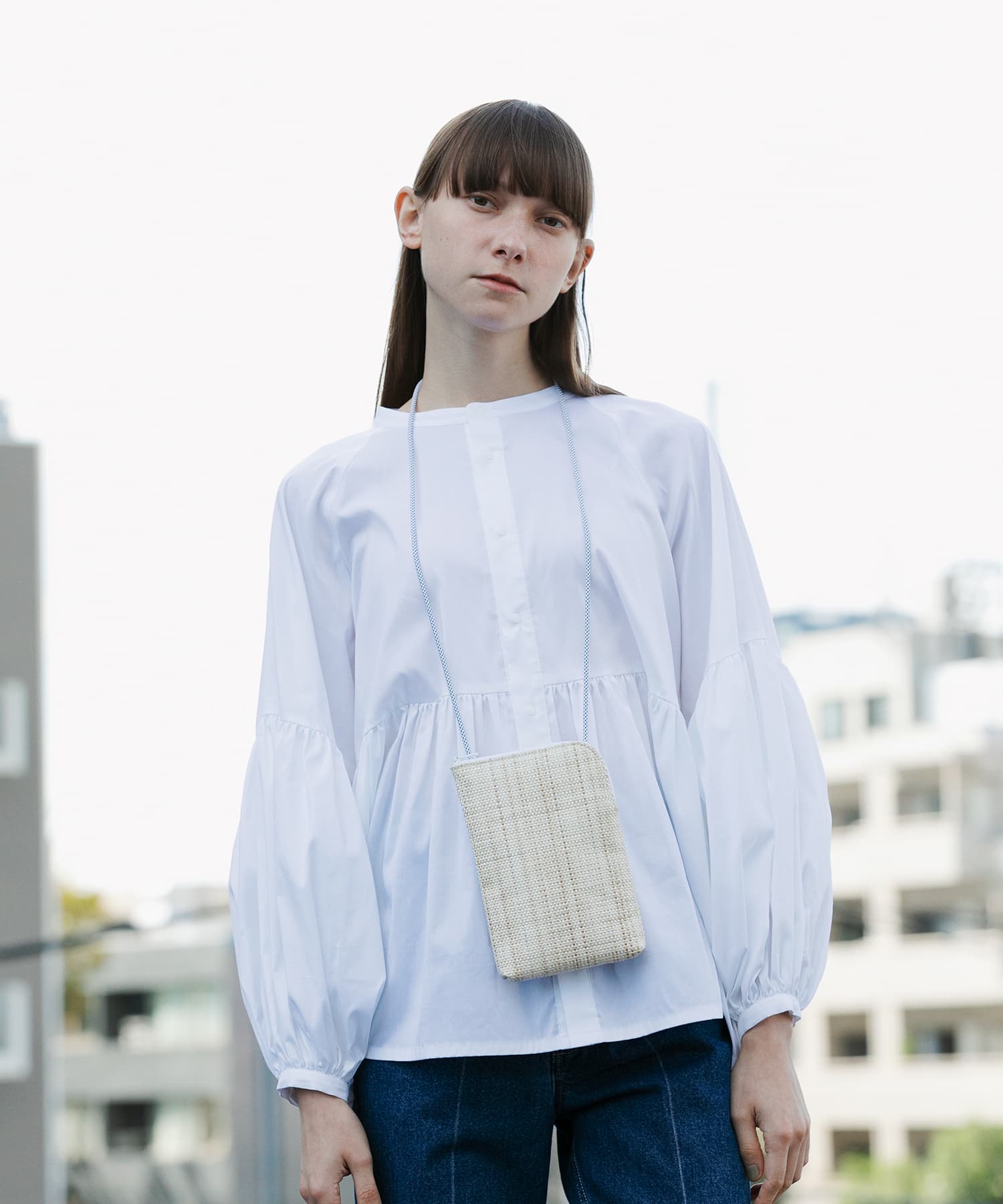 F/CE. W.R PANAMA PHONE CASE / 12,100 yen(+TAX)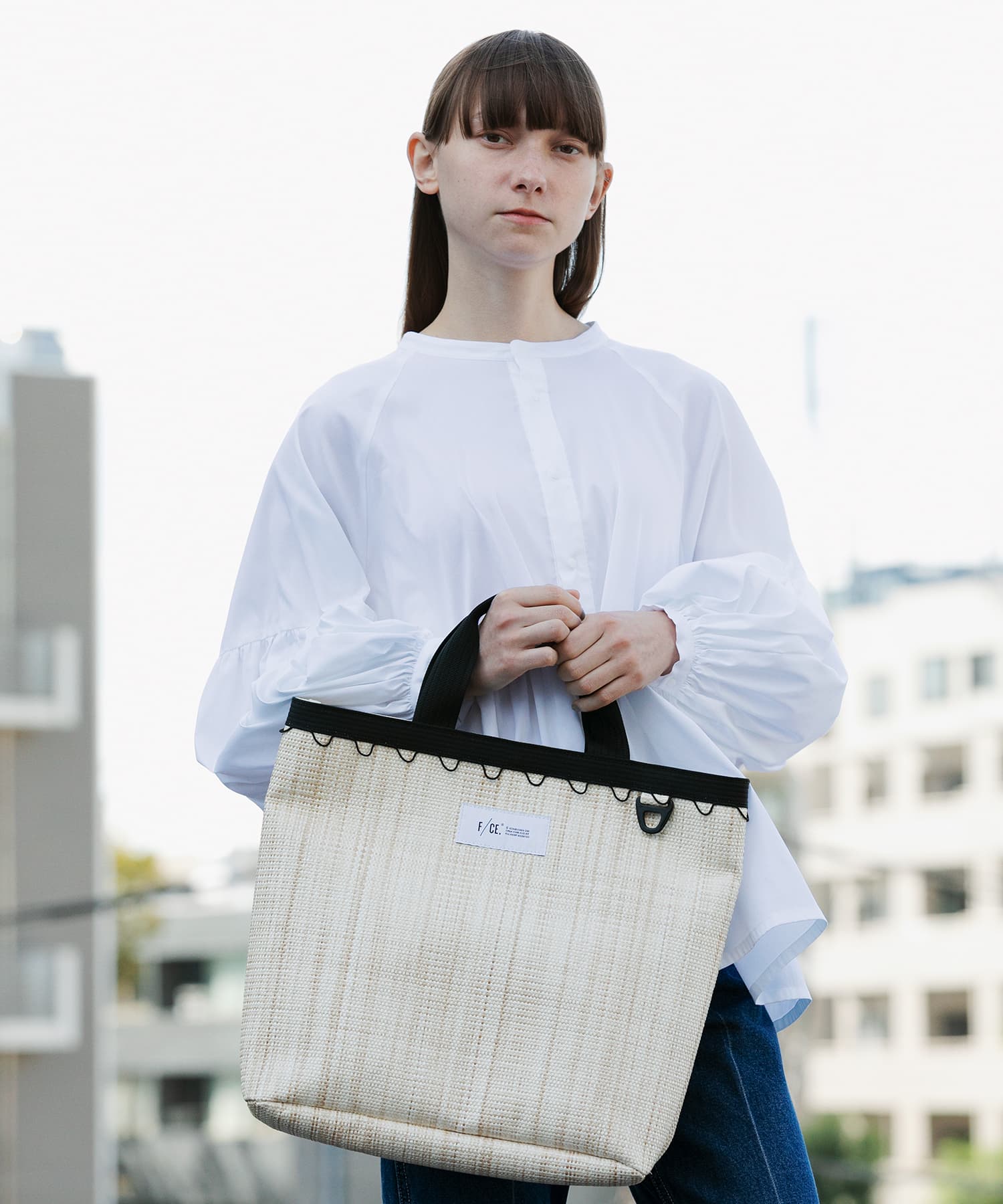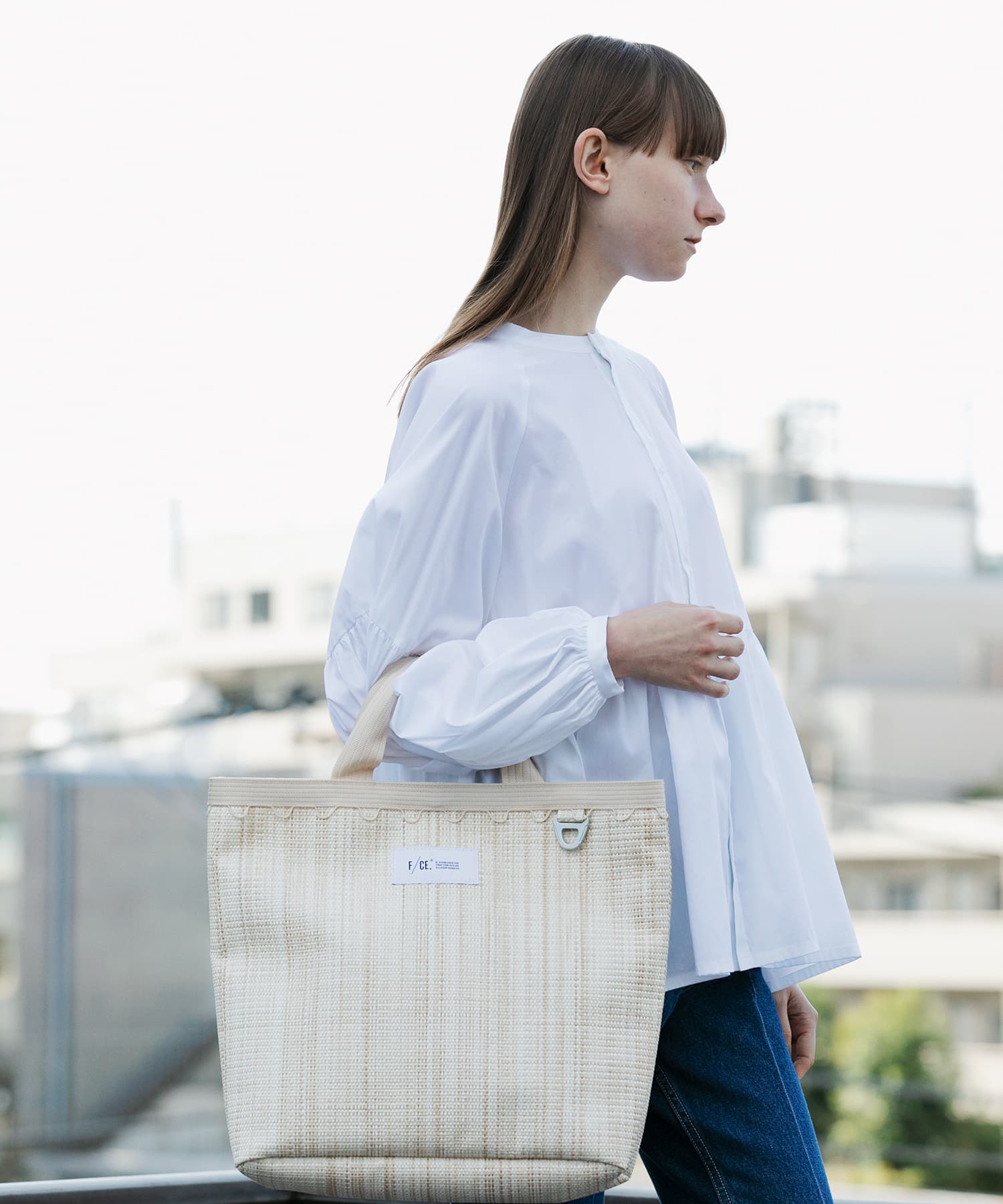 F/CE. W.R PANAMA TOTE / 26,400 yen(+TAX)
■FABRIC /LAMINATE LINEN CLOTH
ナチュラル感のある、ストライプのコットンリネンのジャカード生地の裏側に、PVC加工を施し撥水機能をプラスした新素材。
タテ糸晒×ヨコ糸リネンの生成り糸を打ち、タテヨコで濃度差をつけたジャガード生地。
A new material with a natural look and feel, made of striped cotton-linen jacquard fabric with a PVC finish on the reverse side for added water repellency.
Jacquard fabric made of bleached warp and linen weft, with a difference in density between the warp and weft.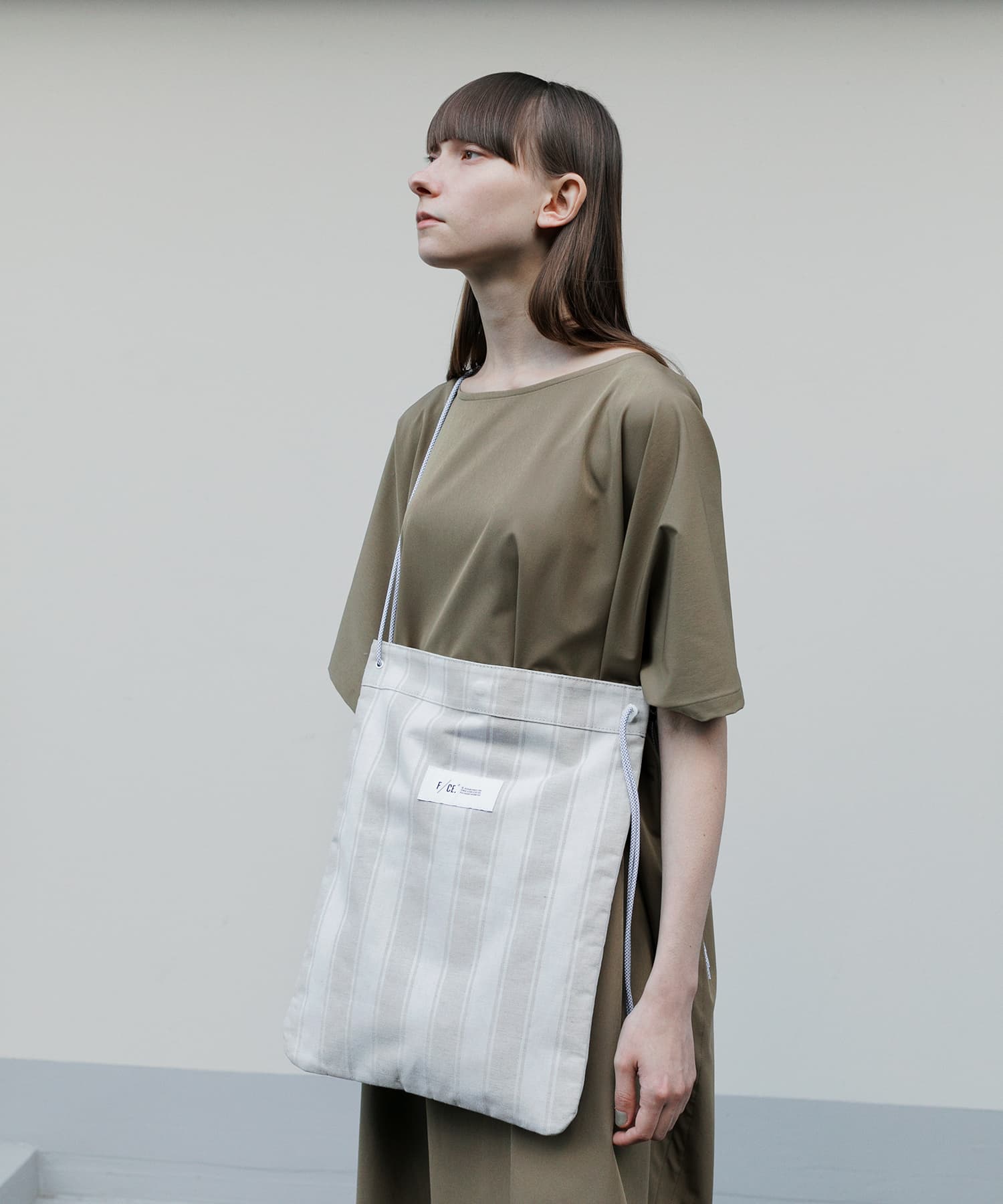 F/CE. W.R LINEN SHOULDER / 12,100 yen(+TAX)
■FABRIC /W. R.CANVAS
コットン100%の11号帆布の裏に、PVC加工を施し撥水機能をもたらしたF/CE.の撥水キャンバス【W.R CANVAS】を使用。
撥水コーティングにより、軽くて薄いキャンバス生地ががっしりと固いイメージの仕上がりに。
F/CE.'s water-repellent canvas [W.R CANVAS] line is crafted from 100% cotton No. 11 canvas that has been modified with a PVC backing to ensure water-repellency.
The water-repellent coating gives the light and thin canvas a firm and solid feeling.
■FABRIC /Dyneema® COMPOSITE. FABRIC
ダイニーマ®コンポジットファブリックは、強度と耐久性を極限まで高めた素材。
500Dナイロンと比較して引裂き、穿刺、摩耗性能を飛躍的に向上させるとともに、軽量化と嵩高さの低減を実現。
とても張りの有る生地ですが使っていくうちに折り皺が付きしなやかになっていくのも特徴の一つ。
Dyneema® composite fabric is a material with extreme strength and durability.
Dyneema® composite fabrics have dramatically improved tear, puncture and abrasion performance compared to 500D nylon, while reducing weight and bulk.
The fabric has a very high tensile strength, but it also folds and wrinkles and becomes more supple as it is used.
■FABRIC /GORE-TEX PACLITE®
表地は防水性・防風性・透湿性に優れた高機能素材GORE-TEX PACLITE®を採用。
裏面にはメンブレンを保護するラミネート塗装を施している。
The outer fabric is made of GORE-TEX PACLITE®, a high-performance material with excellent waterproof, windproof and breathability properties.
The reverse side has a laminated coating to protect the membrane.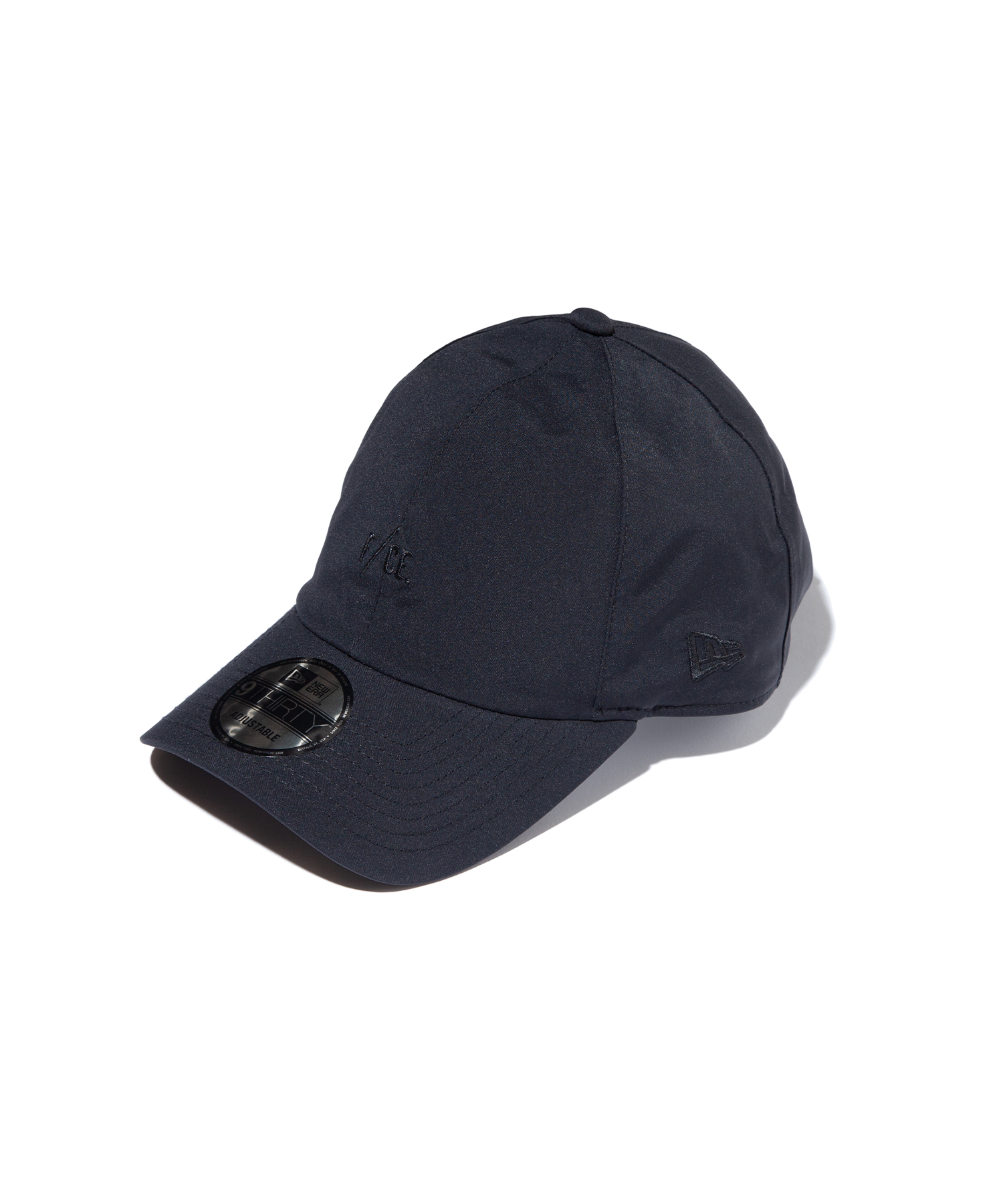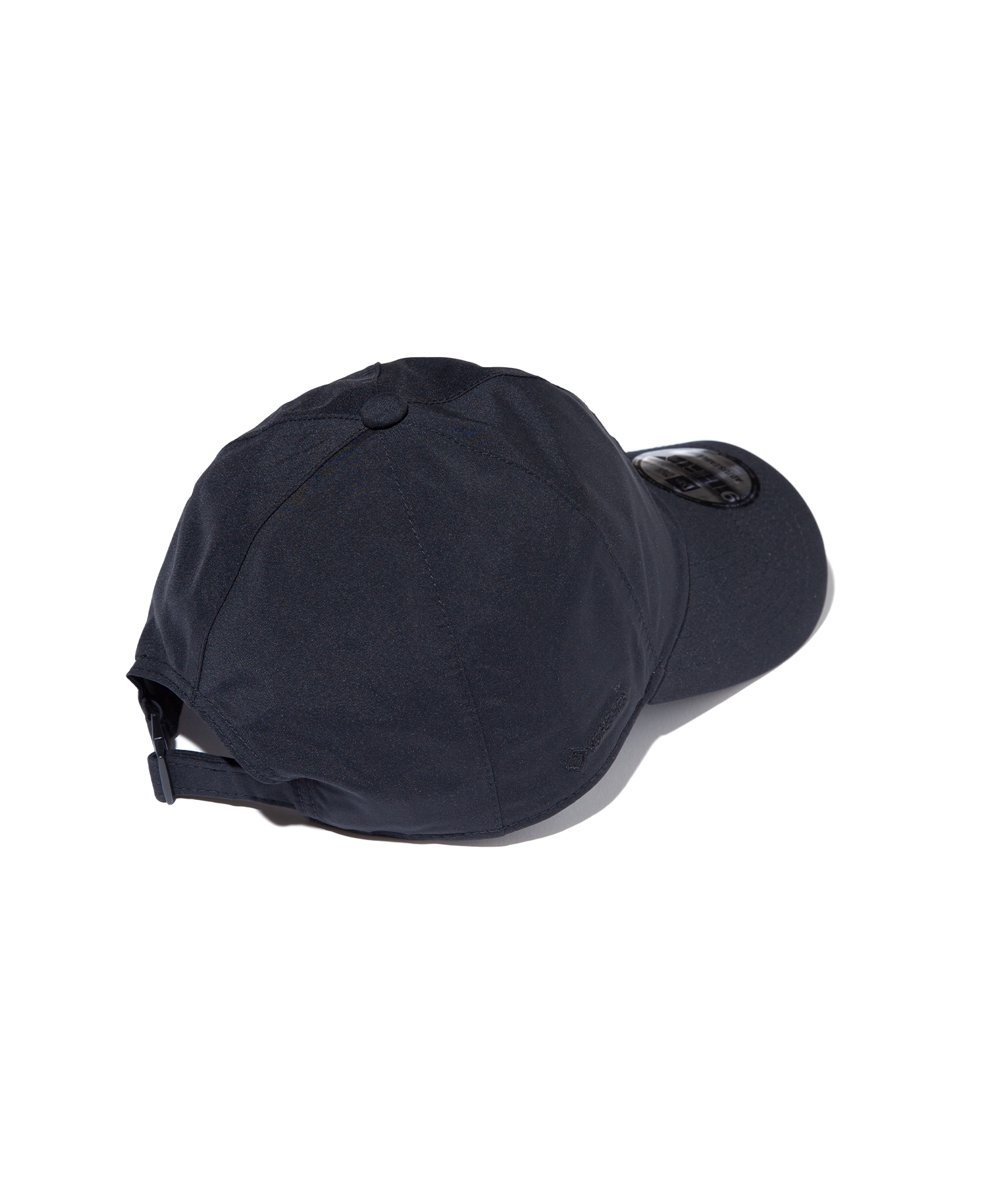 F/CE. × NEW ERA GORETEX CAP BY NEW ERA / 11,000 yen(+TAX)
■FABRIC / 630D ORIGINAL CORDURA
軽量、撥水、生地のなめらかさなどを実現した高密度織りの630Dのコーデュラナイロンを開発。
ヨコ糸に長繊維(フィラメント糸)を使用することで光沢感をプラス。
F/CE.®のコーデュラ®ナイロンを使用したラインナップの中で最も軽く、軽量化のためデザインなどで必要なもの以外をすべてそぎ落とし、最低限のパーツにて構成されている。
We have developed a type of CORDURA nylon we call 630D.
The fabric's high-density weave makes it light, water-resistant and smooth to the touch.
The fabric is given a glossy appearance by using long fibers (filaments) in the weft. This is the lightest item in the F/CE.® line-up using CORDURA® nylon, and in order to reduce its weight, we omitted all extraneous aspects in its design. It is structured with the bare minimum number of parts.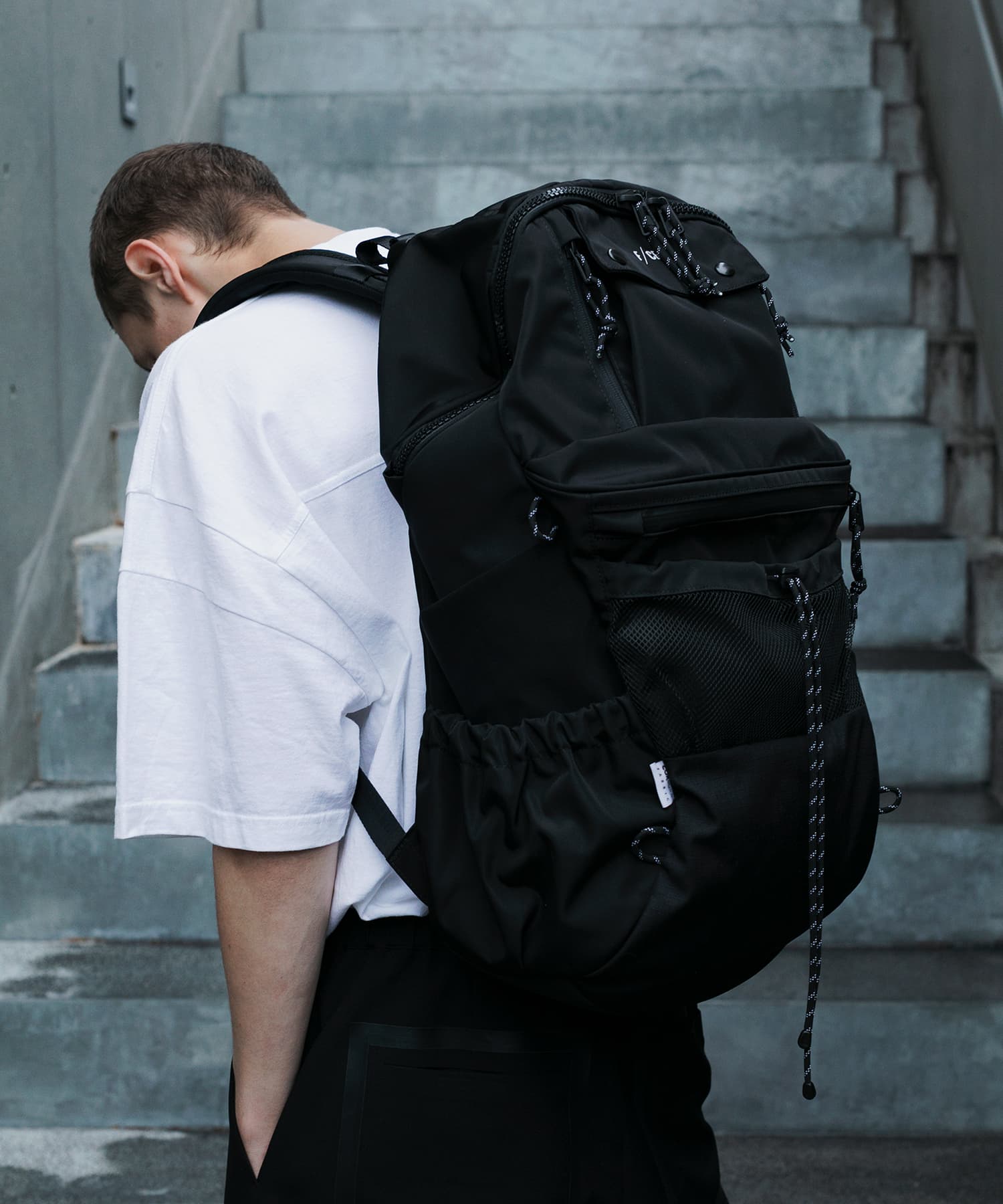 F/CE. 630 URBAN PAC / 28,600 yen(+TAX)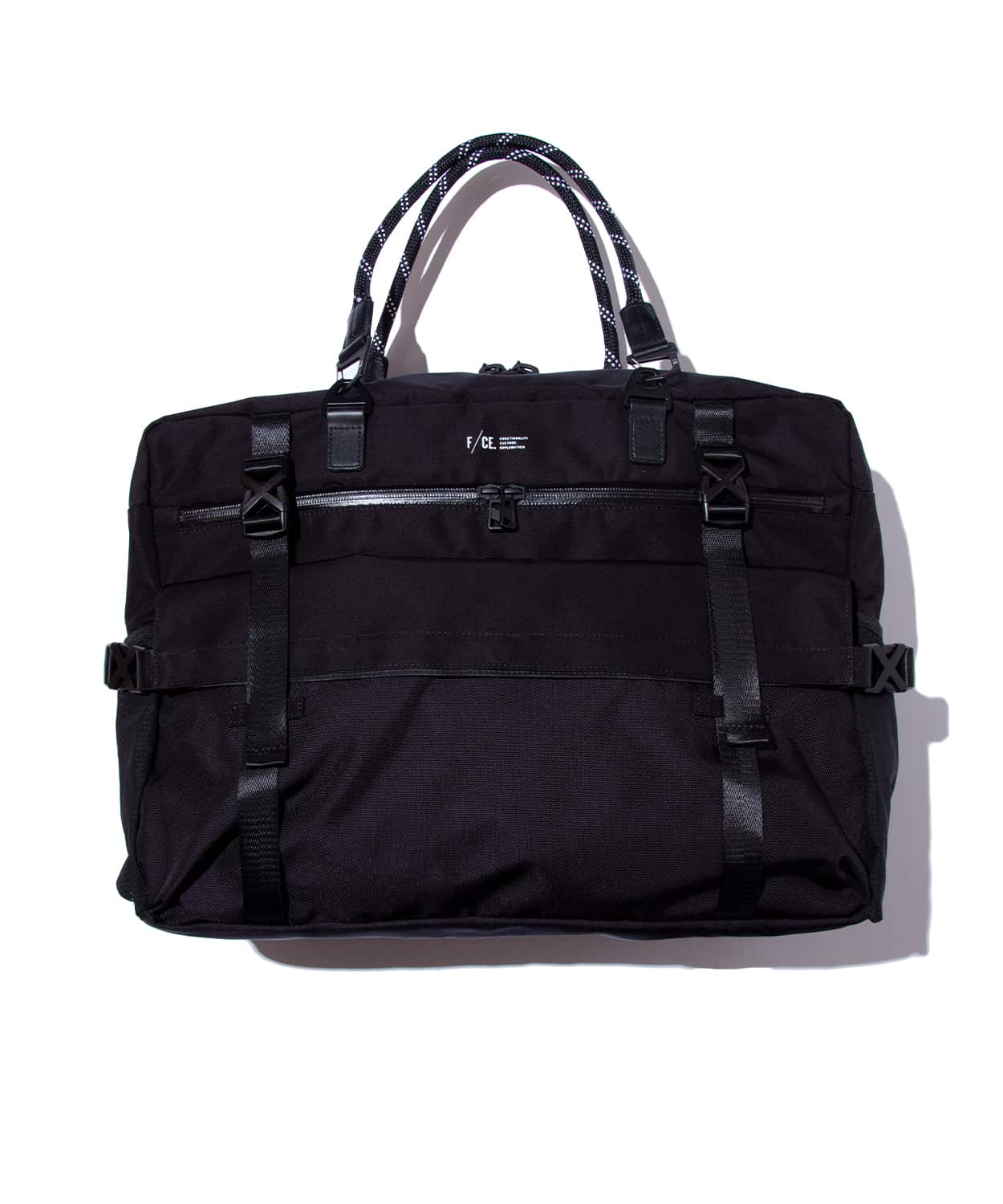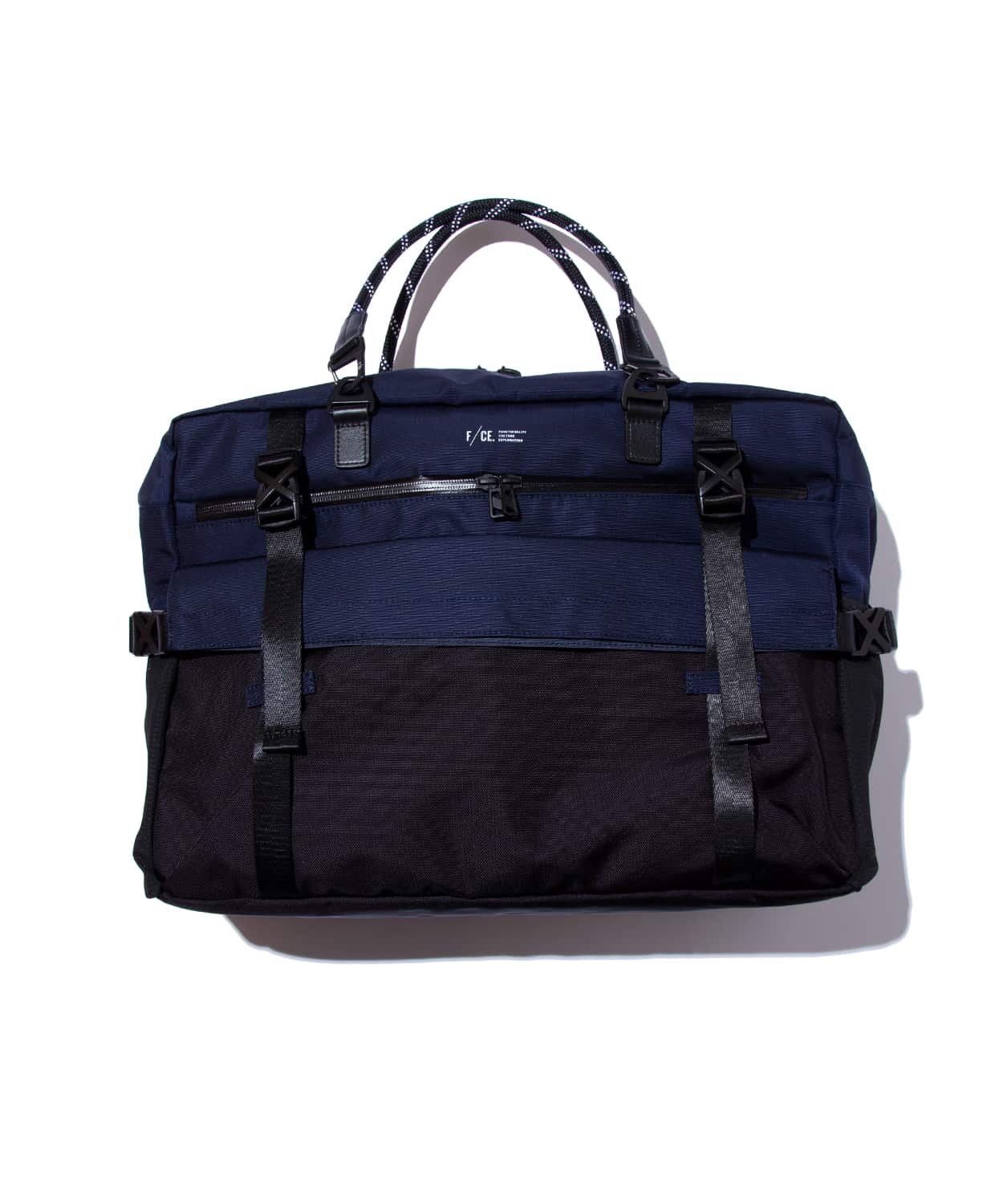 F/CE. 630 BLDG TOTE / 35,200 yen(+TAX)
■FABRIC / SOLOTEX MICROFT 
経糸に特殊混繊糸を使用することで生地の表面に蓮の葉のような微細な凹凸をつくることで優れた撥水性を実現。
軽量で高い撥水性とストレッチ性を持たせた梅雨におすすめの高機能素材。
今年のコレクションではよりタウンユースしやすいデザインに。
The warp yarn is made from a special mixed fibre yarn, which creates minute irregularities on the surface of the fabric, like lotus leaves, to achieve excellent water-repellent properties.
Lightweight, highly water-repellent and stretchable, this is a highly functional material recommended for the rainy season.
This year's collection has a more town-use-friendly design.
DRY LINE