SPECIAL FEATURE ON RAINY SEASON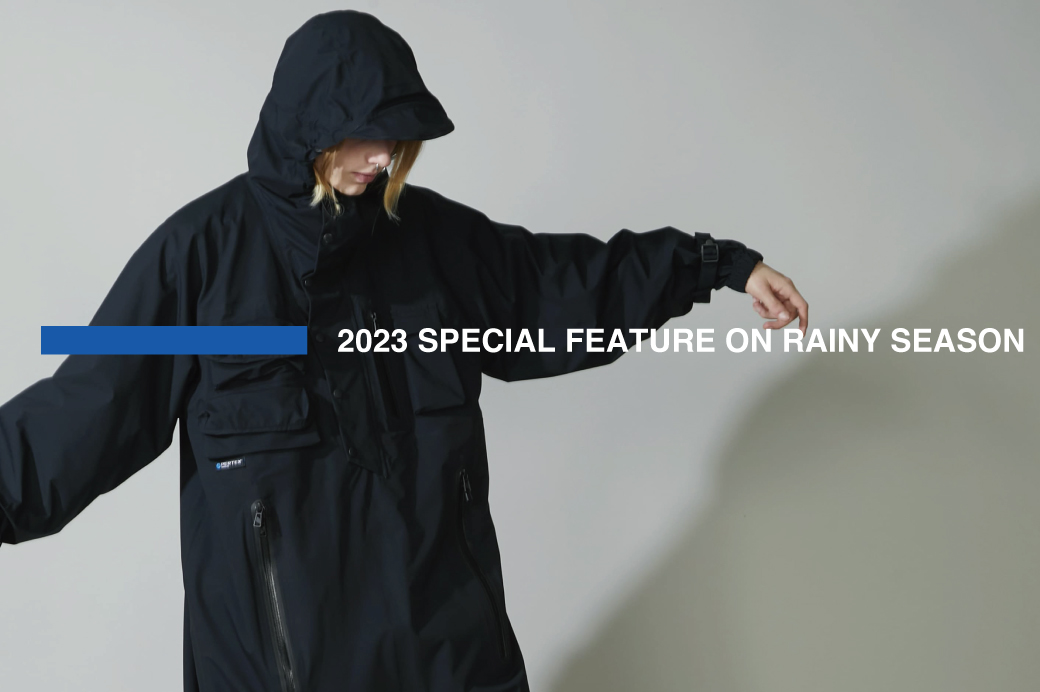 悪天候が続く梅雨の季節にぴったりの機能素材を用いたアイテムをセレクト。
日常使いできるデザインのアイテムは雨の日だけでなく普段のコーディネートでも活躍します。
外で過ごす時間の長い、キャンプやフェスなどのイベントでも急な天候の変化に対応できおすすめです。
We have selected items made of functional materials that are perfect for the rainy season when bad weather continues.
Items designed for daily use are useful not only for rainy days but also for everyday coordination.
We recommend these items for events such as camping and festivals where you spend a lot of time outside, as they can cope with sudden changes in the weather.
■PERTEX
アルピニスト、スキーヤー、ランナー、山岳アスリートの特定のニーズに合わせて作られておりアウトドア素材として注目を集めるPERTEXシリーズ。
糸の選択、製織プロセス、仕上げを変更することで、それぞれが独自の特性を備えた様々な生地を設計することが可能に。PERTEXには様々な種類がありますが、いずれにも共通するのが「軽く、しなやか」という特徴です。
– PERTEX  SHIELD
高い通気性を維持しながら軽量の防水機能を有します。
軽量性と通気性が重要となる激しい山岳活動向けに設計されたPERTEX SHIELD。
PERTEXシリーズ共通の軽く、しなやかという特性から素早い動きと快適な着心地を提供します。
多用途の2層、2.5層、および3層構造により、軽量の表面生地と防水性、防風性、通気性のあるメンブレンが組み合わされています。
耐久撥水加工が表面生地に施されており、雨や雪をはじき、通気性を維持します。
– PERTEX EQUILIBRIUM
独自の二重織り構造を採用し、しっかりと織られた外側の面は雨風から保護され、より密に織られた内側の面は湿気を体から遠ざけるのに役立ちます。
このユニークな構造は耐候性と通気性のバランスを取り、より快適な衣服内環境を作りだします。
■PERTEX
The PERTEX series has garnered attention as an outdoor material tailored to the specific needs of alpinists, skiers, runners, and mountain athletes.
By changing yarn selection, weaving processes, and finishes, it is possible to design a variety of fabrics, each with its own unique characteristics.
– PERTEX SHIELD
PERTEX SHIELD is a lightweight waterproof fabric that maintains high breathability.
PERTEX SHIELD is designed for intense mountain activities where lightweight and breathability are important.
The lightweight and supple characteristics common to the PERTEX series provide quick movement and comfort.
Versatile 2-, 2.5-, and 3-layer construction combines a lightweight surface fabric with a waterproof, windproof, breathable membrane.
A durable water-repellent finish on the surface fabric repels rain and snow and maintains breathability.
– PERTEX EQUILIBRIUM
A unique double-weave construction is used.
The tightly woven outer surface provides protection from the elements, while the more densely woven inner surface helps keep moisture away from the body.
This unique construction balances weather resistance and breathability, creating a more comfortable environment inside the garment.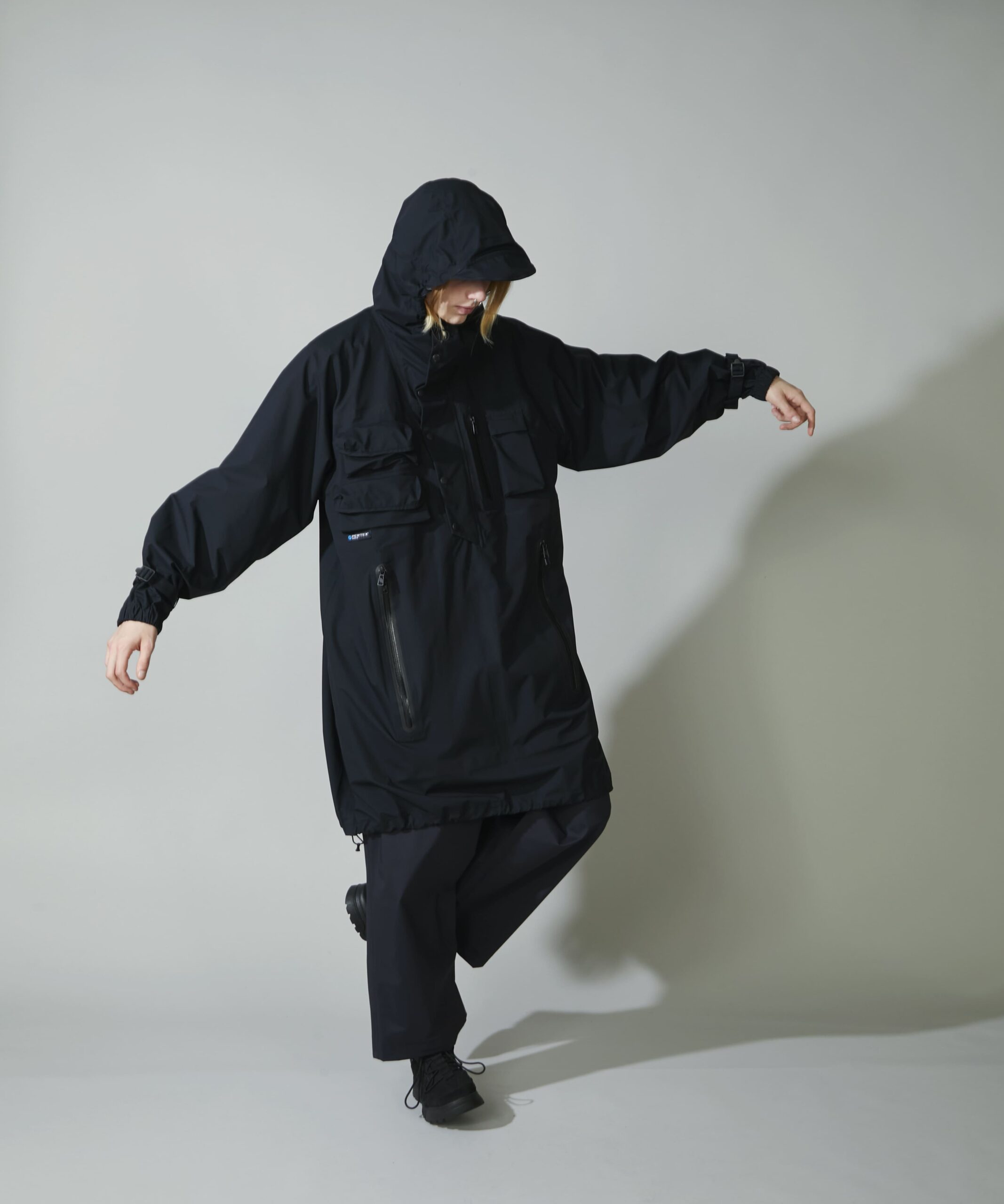 F/CE. PERTEX WATERPROOF COAT / ¥77,000(IN TAX)
■GORETEX
耐久防水性と高い透湿性、優れた防風性を兼ね備えたパフォーマンスを高めるお馴染みGORETEX。
ジャケットやシューズなどアウトドアアイテムに採用されていることが多く、水の侵入を防ぎ、水蒸気を通す特徴があります。
そのため悪天候時でも雨による外側からの水は防ぎ、内側からの汗などの水蒸気は外に逃がすため蒸れることなく快適に着用することを可能にします。
■GORETEX
The well-known GORETEX enhances performance by combining durable waterproofness, high breathability, and excellent wind resistance.
It is often used in outdoor items such as jackets and shoes, and has the characteristics of preventing water from entering and allowing moisture vapor to pass through.
Therefore, even in bad weather, water from the outside due to rain is prevented, and water vapor such as sweat from the inside is allowed to escape, allowing the wearer to wear the garment comfortably without getting stuffy.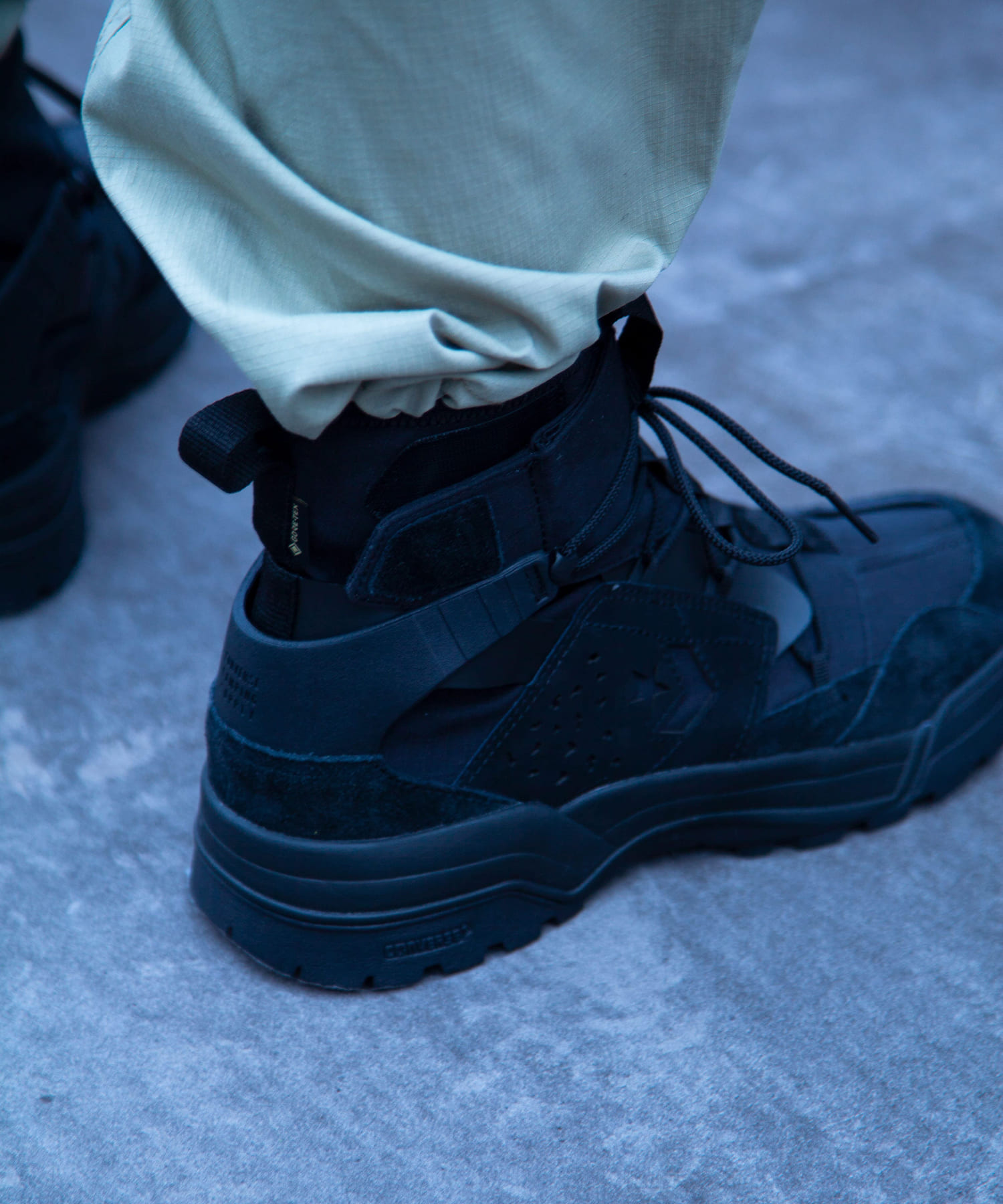 F/CE. × CONVERSE QAK CP GORE-TEX HI / ¥24,200(IN TAX)
■MICROFT
より高い撥水性とストレッチ性を持たせたマイクロファイバー使いの高密度織物。
経糸に特殊混織糸を使用することで生地の表面に蓮の葉のような微細な凹凸を作ることで優れた撥水性を実現します。
微細な凹凸により透湿性があり蒸れにくく、また軽くソフトな風合いでシワになりにくい特徴を持ちます。
■MICROFT
A high-density woven fabric using microfiber with higher water repellency and stretchability.
The warp yarn is made of a special mixed weave yarn, which creates minute irregularities on the surface of the fabric, like lotus leaves, to achieve excellent water repellency.
The micro-unevenness of the fabric allows moisture permeability and prevents stuffiness, while its lightweight and soft texture resists wrinkling.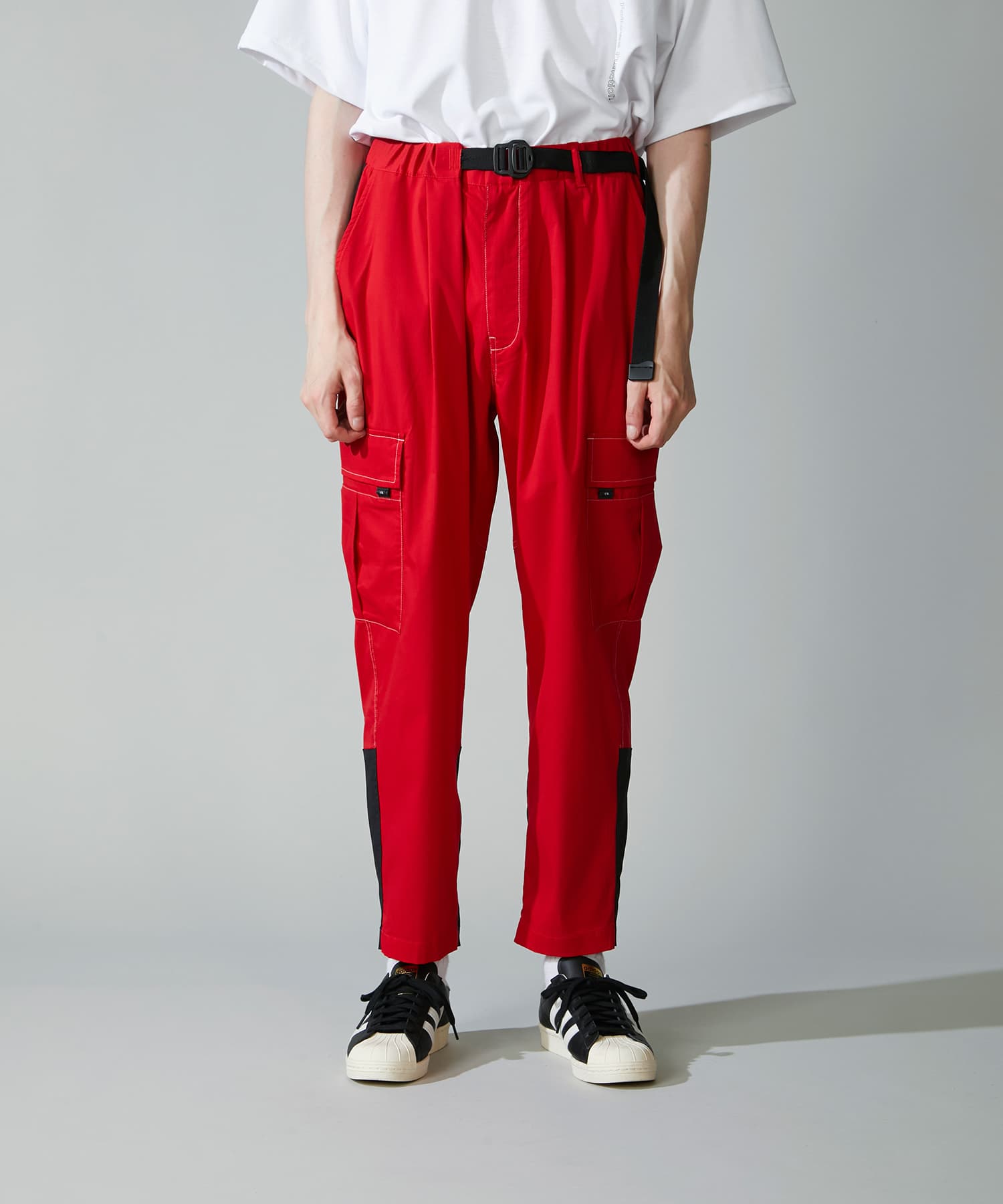 F/CE. MICROFT CARGO PANTS / ¥29,700(IN TAX)
■DRY BAG  SERIES (F/CE. ORIGINAL BAG LINE)  7月入荷予定
無縫製・完全防水のF/CE.オリジナルBAGライン。
ハイスペックなアクティブギアからのインスピレーションで全てデザインされています。
特殊機械に重ねて入れた2枚の生地(パーツ)に圧力をかけ、電磁波を流すことにより、耐久性のある縫い目のない接合部に仕上がります。
特殊熔着処理によって2つの生地が分子レベルで化学反応を起こす結果、接合部が再分離、剥離が起こることはありません。
メインの素材にはCORDURA 500Dのリップストップファブリックを使用し、防水かつ安心の強度を併せ持つことが可能に。
また一部のモデルにはジップロックパーツなど、特殊パーツを使用し、バッグから小物まで、様々な状況下でも安心して使用することが可能です。
■DRY BAG SERIES (F/CE. ORIGINAL BAG LINE)  Scheduled to arrive in July
The F/CE. ORIGINAL BAG LINE is a no-sew, completely waterproof line of bags.
All the designs are inspired by high spec active gear.
Two pieces of fabric (parts) are placed on top of each other in a special machine, and pressure is applied and electromagnetic waves flow through them to create a durable seamless joint.
The special welding process causes a chemical reaction between the two fabrics on a molecular level, resulting in a joint that will not re-separate or delaminate.
The main material used is CORDURA 500D ripstop fabric, which is both waterproof and strong.
Some models also use special parts, such as zip-lock parts, to ensure that the bag can be used safely in a variety of situations, from bags to small items.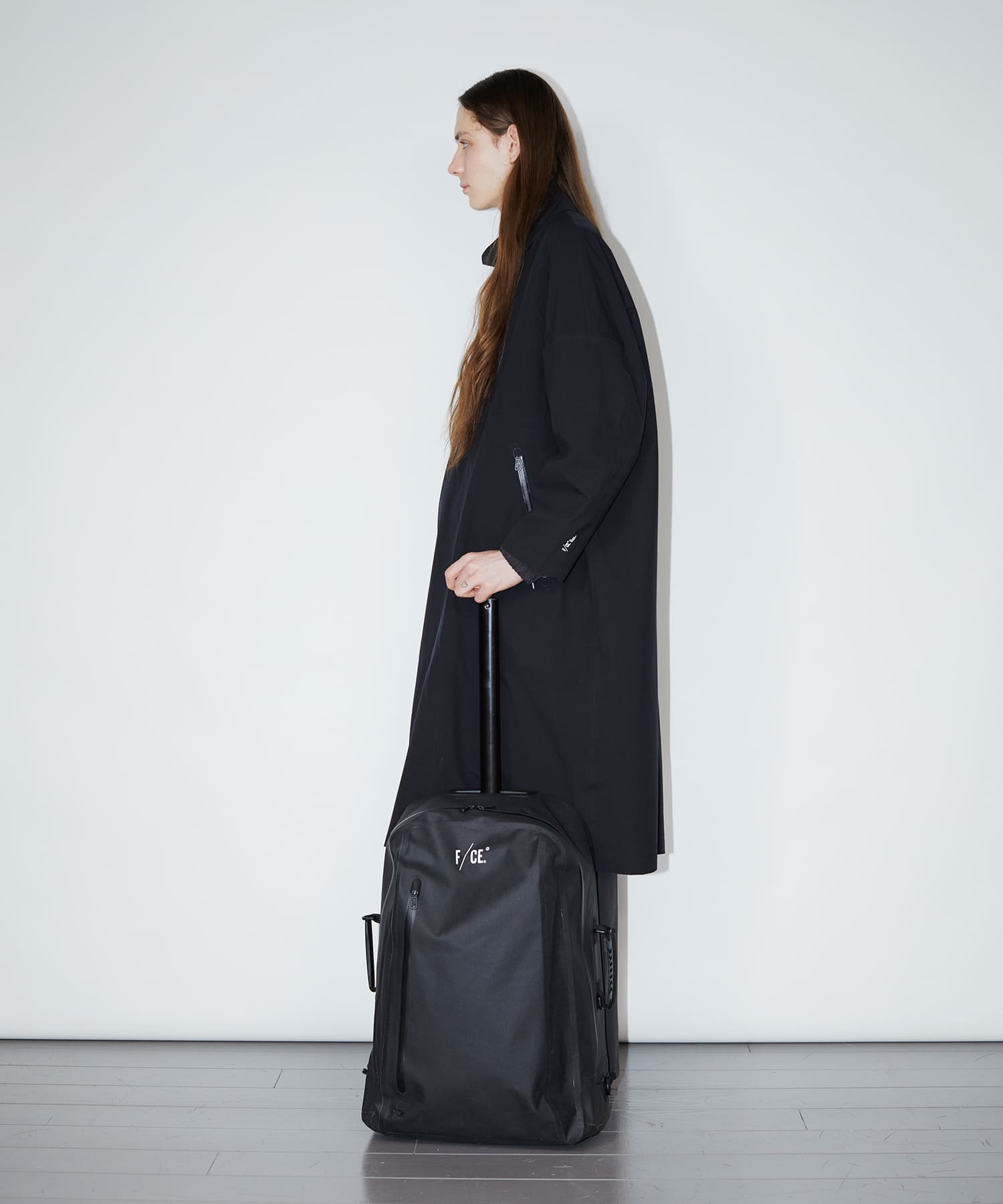 F/CE. CORDURA DRY 2WAY TROLLEY / ¥49,500(IN TAX)
■W.R CANVAS BAG SERIES  (F/CE. ORIGINAL BAG LINE)
F/CE.オリジナル素材の、コットン100%の11合帆布の裏に、PVC加工を施し撥水機能をもたらした撥水キャンバスを使用したBAGライン。
コットン100%でありながら撥水性、耐久性に優れています。
撥水コーティングも施しており、軽くて薄いキャンバス生地がしっかりと固いイメージに仕上がります。
■W.R CANVAS BAG SERIES  (F/CE. ORIGINAL BAG LINE)
F/CE. ORIGINAL BAG SERIES (F/CE. ORIGINAL BAG LINE) is a line of bags made of water-repellent canvas, which is made of 100% cotton 11-ply canvas with a PVC finish on the reverse side.
Although it is 100% cotton, it has excellent water repellency and durability.
A water-repellent coating is also applied, giving the light and thin canvas fabric a solid and firm image.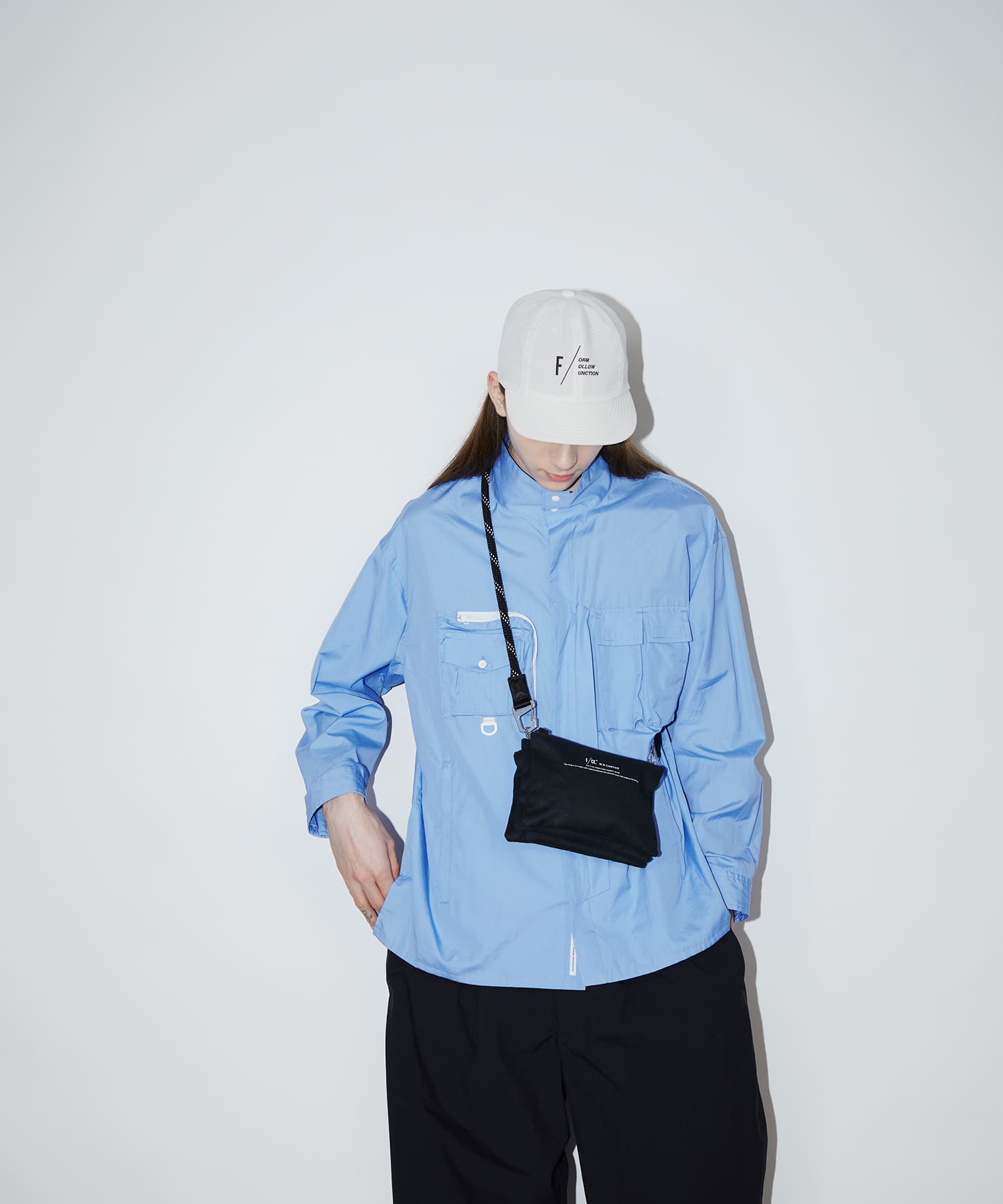 F/CE. W.R CANVAS MINI CLUTCH / ¥20,900(IN TAX)