21.08.10
【オンラインストア】夏季休業の配送・お問い合わせにつきまして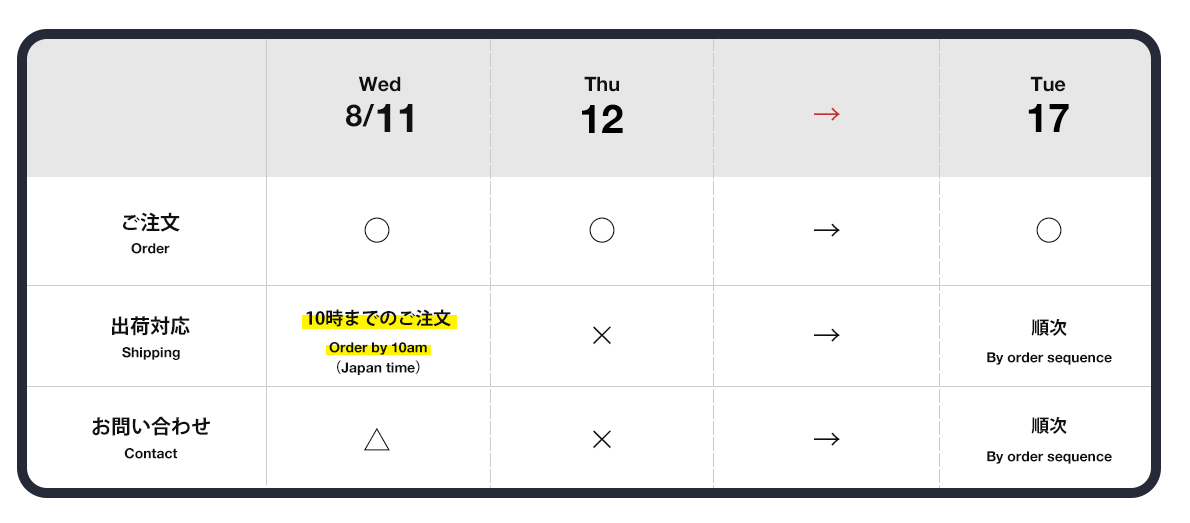 平素は格別のお引き立てを賜り、厚く御礼を申し上げます。
誠に勝手ながら8/12(木)~ 8/16(月)の期間を休業日とさせていただきます。
■お問い合わせ、商品の発送に関して
休業中のお問い合わせ、オーダーにつきましては8/17(火)より順次ご対応を進めさせていただきます。
また、当店では複数店舗で在庫を共有しており、システムで在庫調整を行っておりますが、タイミングにより在庫にずれが生じることがあります。
そのため、タイミングによっては、ご注文頂いた商品が欠品となる場合もございます。
予めご了承くださいますよう、お願い申し上げます。
We would like to take this opportunity to thank you for your continued support.
We are sorry to inform you that we will be closed from 12th August to 16th August.
Please note that we will be closed during this period.
We will respond to all enquiries and orders during this period from Tuesday 17th August.
If you have any questions, please do not hesitate to contact us.
However, depending on the timing, there may be a gap in stock.
We ask for your understanding in this matter.