23.04.26
【オンラインストア】ゴールデンウィークの配送・お問い合わせにつきまして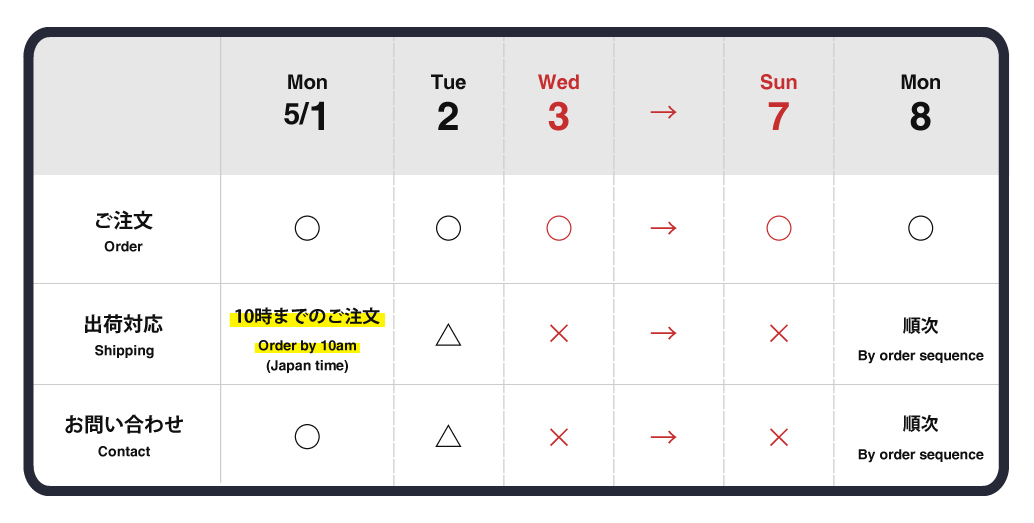 平素は格別のお引き立てを賜り、厚くお礼を申し上げます。
誠に勝手ながら祝日を含むため、5/3(水)ー5/7(日)の期間を休業日とさせていただきます。
国内でGWまでの商品の到着をご希望のお客様は、誠に勝手ながら5/1(月) 10:00までののご注文をお願いいたします。
※複数点ご注文で同倉庫に商品がない場合は、手配に時間がかかりご希望に沿うことができない可能性がございます。
■お問い合わせ、商品の発送に関して
休業中のお問い合わせ、オーダーにつきましては5/8(月)より順次ご対応を進めさせていただきます。
また、当店では複数店舗で在庫を共有しており、システムで在庫調整を行っておりますが、タイミングにより在庫にずれが生じることがあります。
そのためタイミングによっては、ご注文いただいた商品が欠品となる場合もございます。
予めご了承いただいますようお願い申し上げます。
※一部近隣倉庫に在庫がある場合は、休業期間中でも発送する事がございます。
<EN>
We would like to take this opportunity to thank you for your continued patronage.
We will be closed from 5/3(Wed.) to 5/7(Sun.), including national holidays.
■Regarding inquiries and product shipping
Inquiries and orders received during the holidays will be handled in order from 5/8 (Mon.).
We share inventory with multiple stores, and although we adjust inventory in our system, there may be a gap in stock depending on the timing.
Therefore, depending on the timing, there may be cases in which an item you have ordered is out of stock.
We ask for your understanding in advance.