2023 SPRING/SUMMER CLOTHING LINE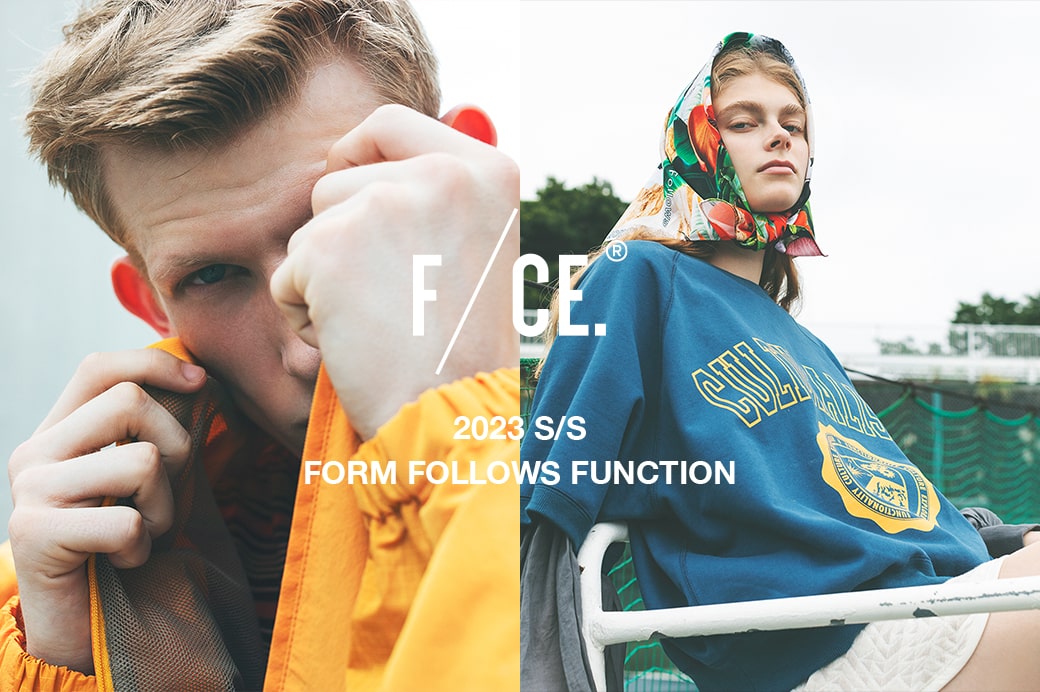 F/CE.のコレクションテーマは
世界中から選ばれたひとつの国。
テーマとなった国を実際に訪れて、
生活、歴史、建築、アート、音楽などに触れることで、
現地で感じたインスピレーションを
デザインとディテールに落とし込んでいます。
私たちがもうひとつ大事にしているもの。
それはスペックと機能性、道具としての完成度の高さです。
都市生活を心地よく過ごすための機能に、
旅から得たイメージを落とし込むことではじめて、
F/CE.のプロダクトは完成します。 
F/CE. 2023 S/S COLLECTION
FORM FOLLOWS FUNCTION
2023 S/SのF/CE.は"FORM FOLLOWS FUNCTION" 「形態は機能に従う」をテーマに制作しました。
この言葉は近代の高層ビルデザインの親、アメリカ人建築家、ルイス・ヘンリー・サリヴァンが生み出した思想です。
ルイス・ヘンリー・サリヴァン(建築家・アメリカ)はシカゴ派を代表する建築家で、フランク・ロイド・ライト(建築家・アメリカ)の師の一人としても知られています。
シカゴ派は鉄骨造の高層建築に代表される建築傾向。
サリヴァンは鉄骨構造により、それまでの石造建築における構造的(物理的)、または形式的(歴史的)な制約がなくなり、建築デザインに変化が生じることを予見。
サリヴァンによって「形態は機能に従う」というフレーズが造られました。
この思想と哲学はモダニズム(近代主義)のデザイン指標として用いられるようになった言葉で、モダンデザインを牽引したドイツのデザイン学校「バウハウス」でも2022 A/W にテーマに掲げた"LESS IS MORE"と共に、2つめの教育理念として、美術や建築、工芸の教育が行われ、マルセル・ブロイヤーの椅子を始めとした多くの革新的なデザインがこれらの理念により生み出されました。
今シーズンはアメリカから産まれた言葉をデザインの指標として取り入れたバウハウスの思想と哲学を紐解いたコレクションを発表します。
The theme of the F/CE.® collection is
A country chosen from all over the world.
You can actually visit the country of the theme
to experience life, history, architecture, art, music, etc.
Inspiration is incorporated into the design and details.
Our designs and details are inspired by these experiences.
Another thing we value is specification and functionality.
Another thing we value is specification and functionality, the perfection of a tool.
We combine the functions that make city life comfortable
and the image we have gained from our travels.
F/CE.® products are complete. 
F/CE. 2023 S/S COLLECTION
FORM FOLLOWS FUNCTION
2023SS explores the philosophy "Form follows function", a concept originally dubbed by the influential American architect Louis Henry Sullivan.
Known as the "Father of modern Skyscrapers" Sullivan was a leading architect of the Chicago school, which developed the widespread use of steel-framed,
high-rise buildings in order to remove the constraints of previous masonry-based construction.
"Form Follows Function" became a benchmark in modernist design, and was famously adopted by the Bauhaus design movement, the inspiration for our 2022AW collection.
Integrating form and function with the principle "Less is More", the Bauhaus movement reconfigured art, architecture and product design in the early 20th century.
For 2023SS we unravel the connections between the Bauhaus movement and Sullivan – presenting a collection that explores functionality through design and the use of innovative materials.